The United Nations has recently published its World Drug Report 2017. I have just finished reading Booklet 3, the part that focuses on plant based drugs and includes a section on the cultivation, production, and consumption of cannabis. It is worth checking out the entire report, however below is a quick summary of the major takeaways that stood out for me.
Cannabis consumption remains stable around the world although increasing in North America, Africa, Asia and Australia.
Cannabis consumption remains stable despite the ever growing popularity of medical cannabis and increasing acceptance in many parts of the world.
It is estimated that 183 million people, 3.8% of the global population used cannabis in the last 12 months. The percentage of users have not changed much since 1998 when it was approximately 3.4% and barely moved over the last decade.
Image from unodc.org report
Despite the stable global numbers, North America, as well as Africa, Australia and Asia are reported to have increased consumption.
The increase in consumption in the United States is mostly attributed to the daily users. The number of people using cannabis on a daily or nearly daily basis has grown from 1.9 % in 2002 to 3.5 per cent in 2015, with as much as 67 % growth during the 2007 to 2015 period.
The majority of the growth seems to be coming from the 26 or older age group and could be due to the evolving science supporting the effectiveness of medical cannabis for a broader and broader range of conditions. More people using medical grade cannabis must be a good thing for society and it also helps to change the stigma.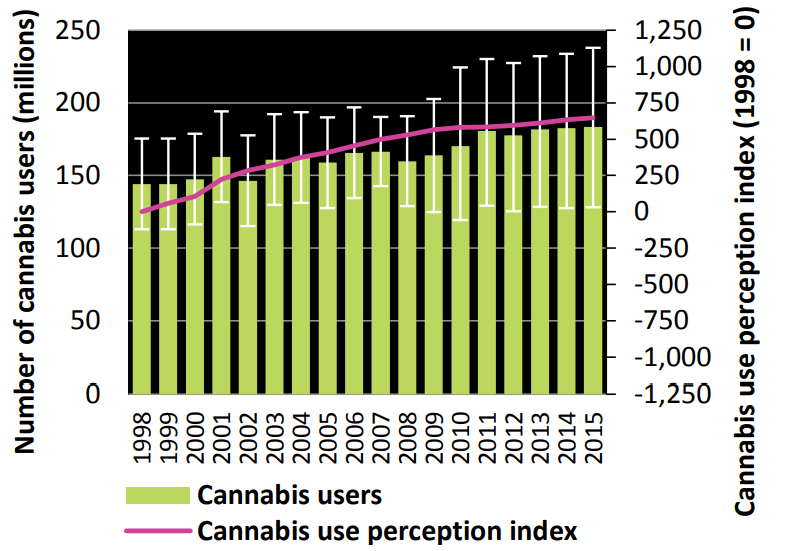 Image from unodc.org report
The report directly credits the increase of adult use in the United States to medical cannabis.

"Overall, the increasing trend in cannabis use is considered to be associated with provisions of medical cannabis — with the evidence suggesting an overall reciprocal relationship between social attitudes and cannabis use patterns."
Australia has also had a small increase in the percentage of cannabis users age 14 years and older, from 9.1% in 2007 to 10.2% by 2013.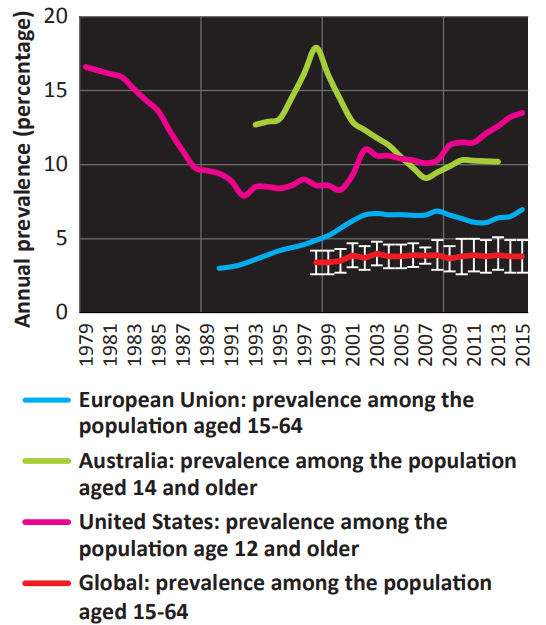 Image from unodc.org report
Teenage cannabis use is trending down around the world
The use of cannabis among European 15 – 16 years olds is decreasing in popularity. The Czech Republic, Denmark, Finland, and France all reported a decrease in adolescent cannabis use.
Despite the increase of use among adults in the United States, use among 8th and 10th-grade high school students declined and remained the same among 12th graders for the last 5 years.
Adolescent cannabis use is a huge topic with very strong opinions, however, in my opinion, it is good for the cannabis cause if we see the number of users trending down in this age group.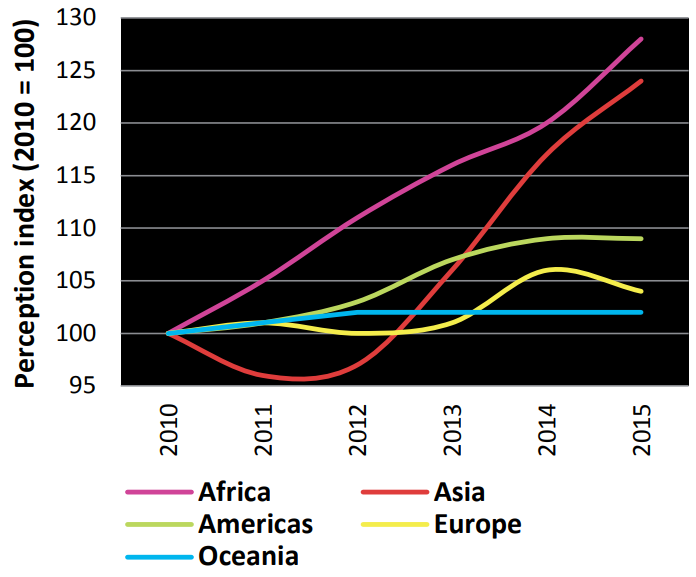 Image from unodc.org report
Cannabis use is increasing among older age groups
While use among teenagers is going down, use among older age groups is increasing. We already talked about increased use in North America and that it is largely attributed to those 26 years of age or older, however, it is also worth looking at age groups above 40.

There has been a significant increase in cannabis use among 45-54 and 55-59-year-olds.
In the former group from 1.4% in 1996 to 2.3% in 2015/16 and in the later group from 0.5% in 1996, to 1.5% in 2015/16.
The aging population needs the therapeutic properties of marijuana more than most, so it is a good thing to see that consumption naturally seems to increase in this age group as social acceptance grows.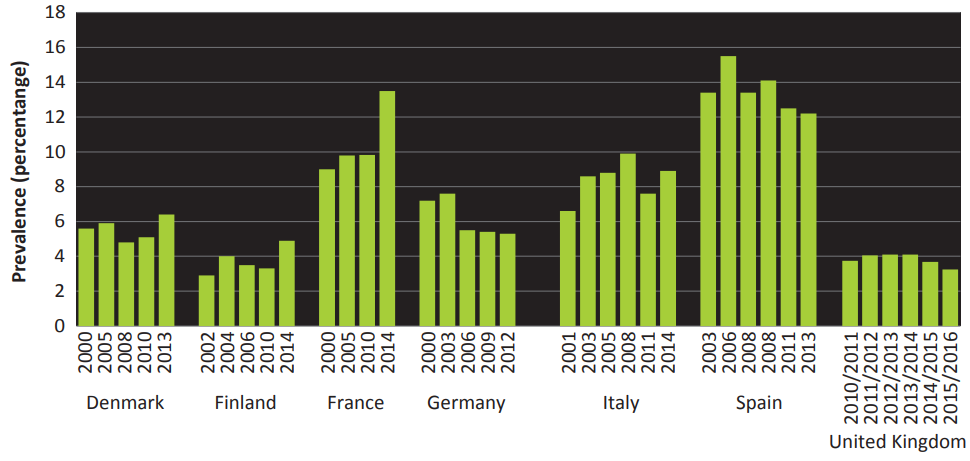 Image from unodc.org report
Cannabis production remains a global phenomenon
Cannabis cultivation is happening all around the world with 132 countries (covering 92% of the world population) reporting seizures of domestically grown cannabis.
Cannabis can be grown in most countries around the world and each region has leading producers that grow enough to supply others within the area. The Netherlands and Albania continue to be the main sources of cannabis in Europe, although the Czech Republic is gaining a reputation as well.
Cannabis resin can be transported even further and easier than buds and remains a huge part of the economy in countries like Morocco.
Synthetic cannabis is an increasing problem
We have recently published a post here on greendorphin.com about how synthetic marijuana linked to serious health effects and the World Drug Report also mentions this growing problem.
Synthetic marijuana was first reported in 2004 and issues related to it have been increasing ever since.
This synthetic product is largely credited to cannabis prohibition. Synthetic cannabis products are mostly used to substitute natural cannabis for being able to pass drug tests.

---
What are your thoughts/ views of the above United Nations' report?
Share it with our community in the comments below.