Chocolates and weed, are among the best things put together for every Cannabis enthusiast.
The edibles industry and community have come a long way in concocting various recipes for chocolate and weed. Here at Green D, we have already featured Cannabis-infused Chocolate Chip Cookies and other treats that delighted many taste buds.
This season of love, we are bringing you one of the most romantic and exquisite ways of turning your chocolates and weed into a yet another, culinary masterpiece. Yes, we are talking about Cannabis Chocolate Truffles!
Learn how to make the classic Cannabis Chocolate Truffles and some healthy Cannabis Chocolate Truffle varieties you can create in your own kitchen. Go ahead, scroll down, and delight in the heavenly goodness of these unique and healthy treats!      
Classic Chocolate Truffles: How It All Began

Nothing can go out of style with the classic version. The emergence of the classic chocolate truffles dates back around the early 1920s. Like other origins story of any amazing discovery, chocolate truffles came by accident.
French chef Auguste Escoffier was working on a pastry cream who intended to pour it over a bowl of sugared egg, accidentally poured it over a bowl of chocolate chunks. Just like in a kid's cereal commercial, it became, POOF! French Chocolate Truffles!
If you are wondering why it is named after a famous fungus, well, its ball shape explains it as it resembles the mushroom's form. There are numerous varieties of chocolate truffles, and they depend on the country where it is being produced.
Some of the famous ones are European which are made with cocoa powder, syrup, and milk powder base, while the Belgian version is filled with buttercream or ganache.  
There you have it. That's how the exquisite chocolate treat began melting hearts of sweet tooths. Now, let's add the star ingredient- Cannabis.
Classic Cannabis Chocolate Truffles
Making Cannabis- infused chocolate truffles is the same with making the classic chocolate truffles. But the key here is the base ingredient of any Cannabis edibles– Cannabutter.
Check out our article on Cannabutter to know how to make it. Apart from that, the rest comes in a breeze if you are already into baking goods and treats! Check out this recipe from Metaweed.
Yield: 1 dozen of Classic Cannabis Chocolate Truffles  
Ingredients:
1/3 cup heavy cream

1 block of Cannabutter

6 tablespoons unsalted butter,

1 3/4 cups 60% Bittersweet Chocolate Chips,

1/3 cup Unsweetened Cocoa
Directions:
Bring heavy cream to a simmer in a low- heated saucepan.

Add in your

cannabutter

and stir until it is melted completely.

Stir in the chocolate chips. Continue stirring until they are melted completely.

Remove the saucepan from heat and pour the batter in a shallow bowl.

Cover the bowl and pop it in the refrigerator for about 2 hours.

Take scoops of the chocolate batter out using a melon baller and form 1- inch balls.

Roll the balls in cocoa powder or chopped nuts. This recipe can make up to a dozen. Line them up in a silicon tray or small dessert tray lined with wax paper. Now, you have your own first set of truffles.

Place the truffles back in the refrigerator for firmer results. Place in a decorative dessert box or serve with hot cocoa or milk.
Healthy Cannabis Chocolate Truffle Varieties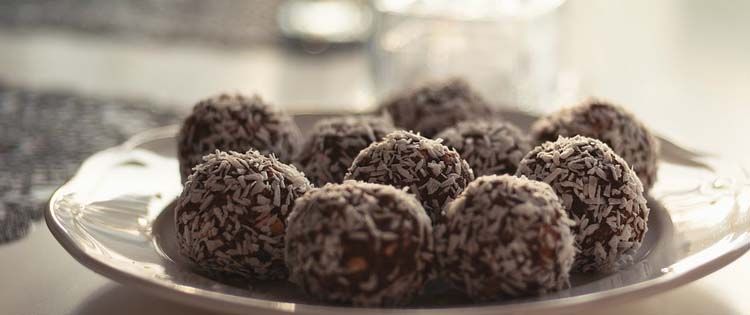 Now, that you know how to create your own classic Cannabis- infused truffles, you can create different varieties which you can, in fact, do in your own kitchen!
We have featured in our recent entry, Easy DIY Valentine's Gifts You Must Try, on how you can "DIY" your own Box of Cannabis Chocolate Truffles by coming up with different yummy and healthy varieties.
Coco- Choco Cannabis Truffles
Coconut, considered as the wonder fruit, does not only have numerous uses but health benefits as well. Then why not add coco into your truffles? And if you are into coconut treats, then this version of Cannabis truffles is for you.
This time, the star ingredient here is Cannabis- infused coconut oil. Learn the many benefits of Cannabis coconut oil and how to make it by checking out this article.   
Yield: Two dozen Coco- Choco Canna truffles
Ingredients:
8 oz dark chocolate (chopped)

Pinch of sea salt

1/4 cup

Cannabis coconut oil

3 tbsps water

1 tsp pure vanilla extract
1/4 cup unsweetened cocoa powder

½ cup desiccated coconut, lightly toasted
Directions:
Melt the chocolate with oil and the water in a small saucepan over low heat, or in a glass bowl on top of a saucepan with boiled water.

Stir in vanilla extract and sea salt.

In an 8-inch square baking pan, transfer the batter and refrigerate for about two hours to make it firm.

Make 24 balls out of a melon baller by scooping out little balls. Transfer the balls on a baking sheet.

Coat your clean hands in cocoa powder and roll the balls to make it smoother.

Pop it in the refrigerator for at least 10-15 minutes.

Roll the truffles in toasted desiccated coconut for crunchy texture and rich coconut taste.
Gingerbread Cannabis Truffles
For the health buff, who wants gluten-free treats, this Gingerbread Truffle recipe is a sure hit. Cannabis coconut oil is also used in this recipe since it has been found that it is better- tasting than the usual cannabutter. Gluten-free cannabis edibles are becoming the trend today, so why not try making these?
Yield: Up to a dozen of Gingerbread Cannabis Truffles Coated in Dark Chocolate
Ingredients:
2 cups chopped nuts

6-8 Dates

Tbls

Cannabis Coconut Oil

2 tbls maple syrup

1-2 1 tsp cinnamon

1 tsp ginger powder

Dash of nutmeg

Pinch of sea salt

Dark chocolate bars (broken into pieces)
Directions:
In a food processor, mix in and process all the ingredients until combined well and resembles a dough texture. Leave out the dark chocolates. This time, we will use chocolate as a coating.  

Using a melon baller, scoop out little balls to make up to a dozen of truffles. Place each on a baking tray lined with baking sheet.

Chill in the refrigerator for about 15 minutes to make firmer balls.

While waiting for the balls in the refrigerator, melt the dark chocolate in a glass bowl over boiled water in a saucepan. Stir continuously with a spatula while melting for a finer texture.  

Take out the balls from the refrigerator and roll them together gently to make finer and firmer balls.

Using a barbecue stick or two spoons, dip and coat the balls in melted milk chocolate. Set aside on a baking sheet and return it to the refrigerator.     
---
Give Yourself a Treat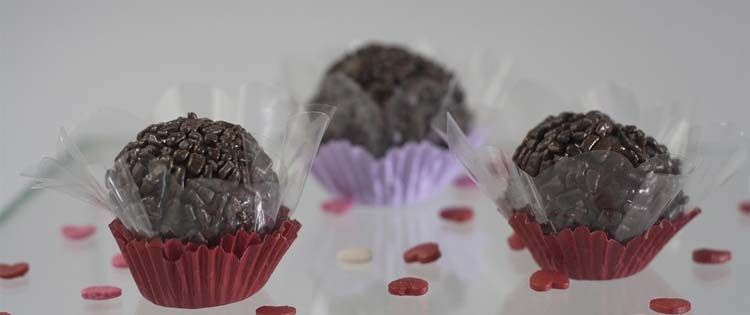 Now that we have shared with you the secrets to making the most scrumptious Cannabis chocolate truffle varieties, there's no reason not to make some in your very own kitchen.
If you want a discreet and maybe fun way to enjoy Cannabis, then give yourself a treat by making them and maybe stocking up some in your desserts fridge as a lovely dessert and aphrodisiac after a romantic dinner with your sweetheart.
These healthy treats are not just a great gift for the cannabis- lovin' sweet tooth, but can also be a standout Cannabusiness to start in your own home.     
---
What other varieties and versions do you have in mind that are worth a try?
Share with us in the comments below!