With the blossoming cannabis-infused edibles (thanks to the growing marijuana legalization movement), new users are discovering ways to enjoy cannabis without smoking and even those who are curious get to try as well.
Using cannabis provides no room for waste. In our quest to see how far our cannabis can go, we have come up with our own cannabis-infused treat. What better way to try it with…  
Chocolate… an all time favorite!
Well, who can ignore it? When it just feels oh so good bite after bite, and you end up eating a big chunk. Chocolate is just comforting. Well, it would not be considered comfort food for nothing, right?
But of course, the downside of too much chocolate is weight gain, sugar-related health issues like gum disease and cavities or worse, diabetes.
On the BRIGHTER side, chocolate has wonderful health benefits especially those dark ones.
High-quality dark chocolates are

very nutritious

containing fiber, iron, magnesium, potassium & more.

Contains powerful antioxidants like polyphenols, flavanols & catechins.

Can lower risk for cardiovascular disease.

Helps improve brain function with its caffeine and flavonol that improves blood flow.
Now, if you want to get more from your regular dark chocolate, infuse it with decarboxylated cannabis.
What is decarboxylated cannabis? This the state of cannabis that's been ground up and heated to become psychoactive.
In this cannabis-infused chocolate, I used the herbs that I previously vaporized. Why?
Vaporizing cannabis flowers does not kill most of the cannabinoids and the terpenes, instead, it actually does the decarboxylation process to make it ready for infusion to edibles. So don't throw those vaped cannabis away.
---
Cannabis Chocolate Recipe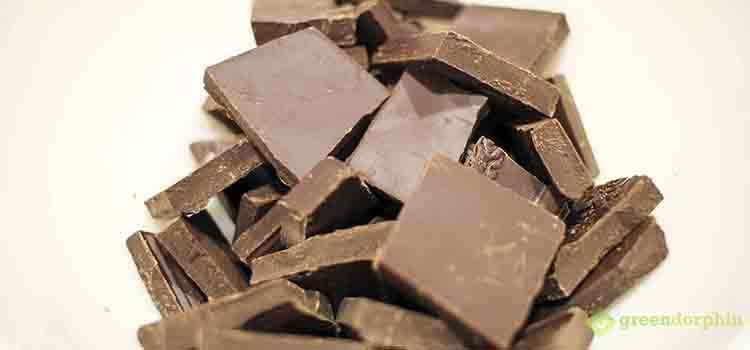 INGREDIENTS
This recipe is pretty simple, all you need to get set up:
Dark chocolates (the healthier chocolate :-))

Decarboxylated cannabis

Double boiler (If you don't have one, a glass or ceramic bowl in a small pot of water on low heat will do like what I did)

Mould (I used a 15 small cubes mould as it also helps me track dosing)

Herb grinder

Optional for added flavor and benefits: nuts, chia seeds, raisins, maca powder, goji berries or shredded coconut
Now, let's get it on!
STEP #1 Preparing the herbs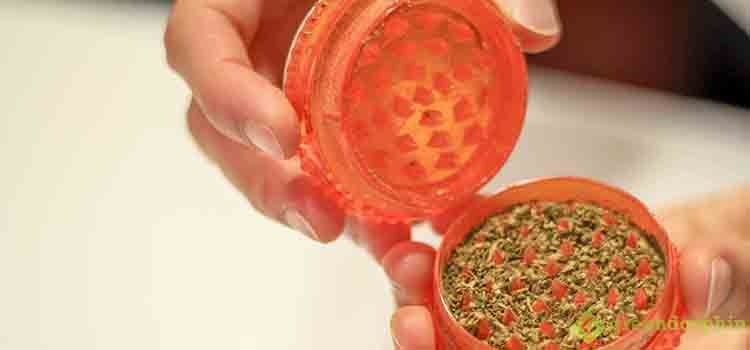 I generally grind the herbs up again to a very fine consistency for better results in the infusion. And since the marijuana is now decarboxylated after vaporizing, it is then very dry and will grind to pretty much a dusty consistency.
STEP #2 Getting the chocolate ready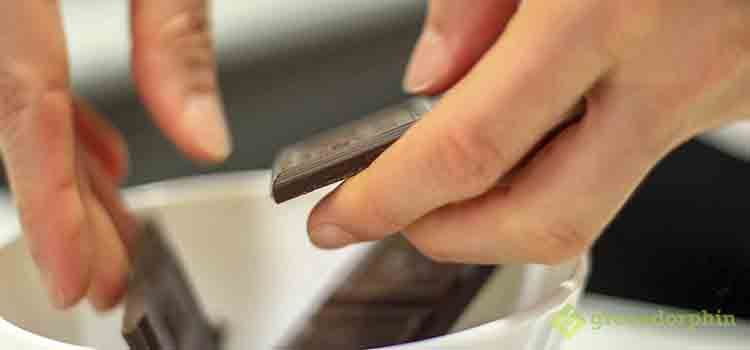 Break your chocolate up into smaller pieces for easy melting.
Normally, I use a block of good quality organic dark chocolate (100g) which can be picked up in most supermarkets.
STEP #3 Melting the Chocolate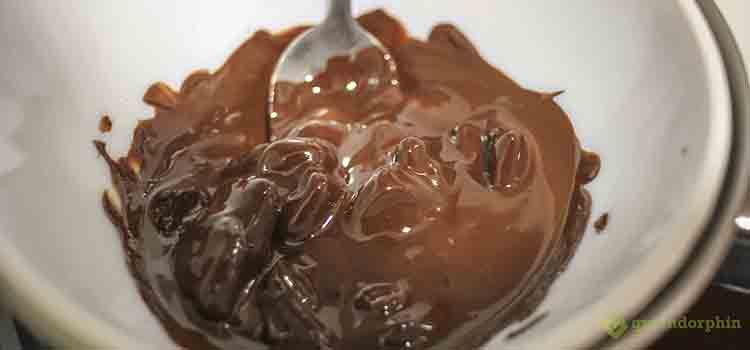 Set the double boiler to melt the chocolate. If you don't have the double boiler, a glass or ceramic bowl on top of a small pot of water on low heat like what I have used will do.
Ensure that no water gets into the chocolate as it melts.
You can start preparing the mould but keep an eye on your melting chocolate.
STEP #4 Adding more flavour?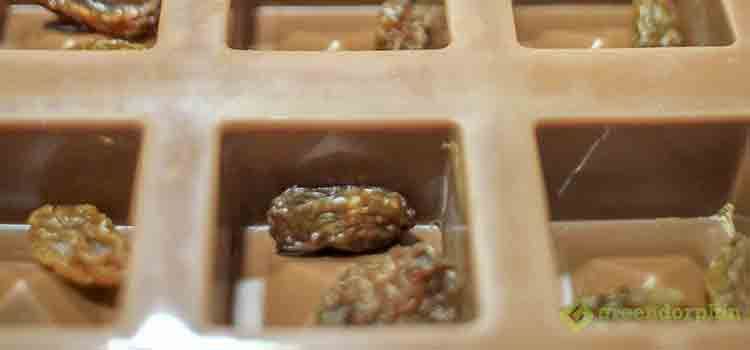 If you like to add more flavor to your chocolate bars, you can experiment.
If you prefer a heavier puncher like a superfood, you can mix in your favourite nuts, chia seeds, maca powder, goji berries or shredded coconut.
For this recipe, I chose raisins and laid it to each of the cubes in the mould while waiting for the chocolate to melt completely while stirring at the same time.
When the chocolate is nice and smooth then it is ready for the cannabis to be added.
STEP #5 Adding the herbs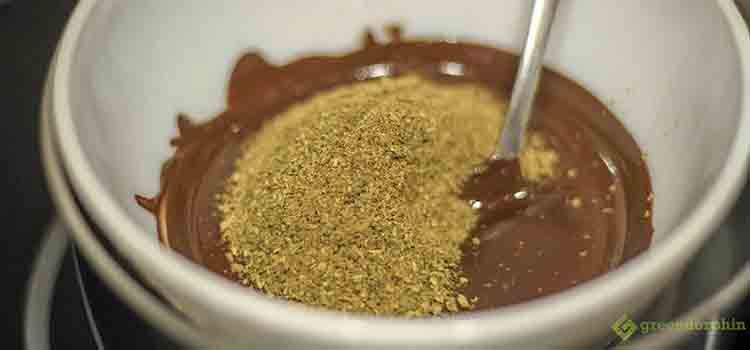 Before adding the cannabis, it is important to note we all have our own level of 'right dose' to get the best effects. Take caution with the dosing and I recommend you start low if this will be your first time.
In my case, I use 6 – 8 grams (approximately a quarter of once) herbs to a 100g (3.5 ounce) dark chocolate bar. Remember though that the herbs I used here are already vaporized and would have lost about 10 – 20% of their weight.
With this, I ended up with 15 blocks with the mould I used. Each block of chocolate is about one serving for an average cannabis user. Two blocks for someone with higher tolerance. For a newbie, this may need to go down to as low as a quarter to half a cube.
I recommend you take the time to experiment with the right dose for yourself.
At this time, I have added the herbs to the chocolate. Mix the herbs into the melted chocolate well ensuring no water gets into the bowl.
STEP #6 Pouring the chocolate into the mould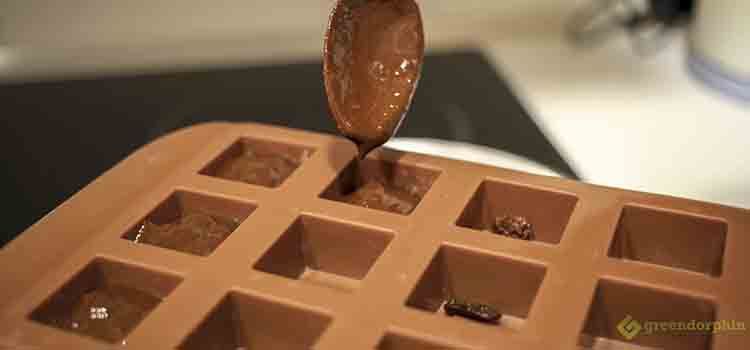 Once the herbs and chocolate are well blended, slowly scoop it and pour into the mould, distributing evenly.
STEP #7 Let it cool in the fridge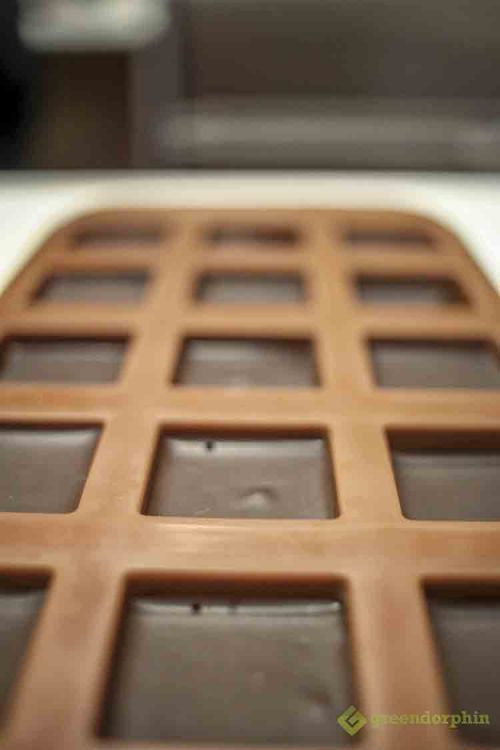 After the cannabis-infused chocolate are transferred in the mould, let it cool in the fridge for about 30 to 60 minutes. This will allow the melted chocolate to set and you will end up with your homemade cannabis-infused chocolate bars.
Once it is set, pop the bars out of the mould and store them in a storage container or bowl.
Just a reminder, store your edibles safely, ensuring they don't get into the reach of children or pets.
Enjoy your cannabis chocolate!
---
How do you find our Cannabis Chocolate recipe?
We would like to hear from you!