Cannabis is clearly all the rage these days – and as legalization makes prohibition a thing of the past, it was inevitable that the leaf motif would start to become, well, a virtual fashion statement.
As such, trend setters are working the plant and artistic representations of the same into just about everything.
It's not enough to partake of the plant (for whatever reason). Advertising that you do is also part of the chic, cool, "in" lifestyle that recreational marijuana use implies.
Cannabis On Or In Clothing
Mara Hoffman, Alexander Wang and Jeremy Scott have all incorporated cannabis motifs into their lines, clothes and provocateur fashion statements. Hoffman wove actual cannabis leaves into his newest line of dresses and trousers (also known as hemp-based clothing). Wang has incorporated pot designs into his new mohair skirts and coats. Scott greenwashed the Adidas logo to make a definite ganja-inspired statement of the times.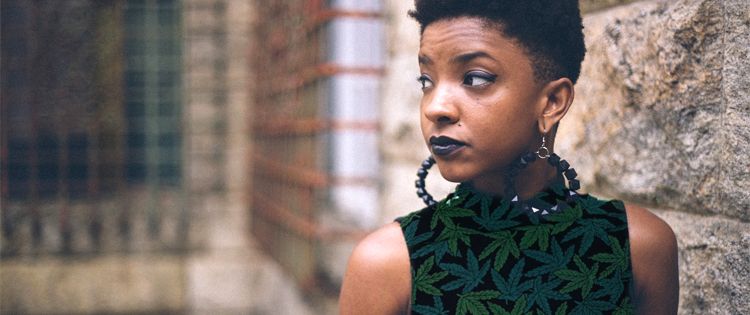 Stella McCartney has even come out with a $12,000 pair of sandals made of completely vegan materials, marketed to the upscale stoner.
Cannabis Jewelry & Accoutrements
The stylized leaf comes in all kinds of jewelry these days – led of course by trendsetters in LA and New York. Jacquie Aiche, who founded Sweet Leaf jewelry is perhaps the best known designer in this niche but she is not the only one. See also the fashion inspirations of New School graduate Gelahreh Mizrahi who has a line of canna-inspired jewelry and clutches getting noticed for their "ultra" hipness.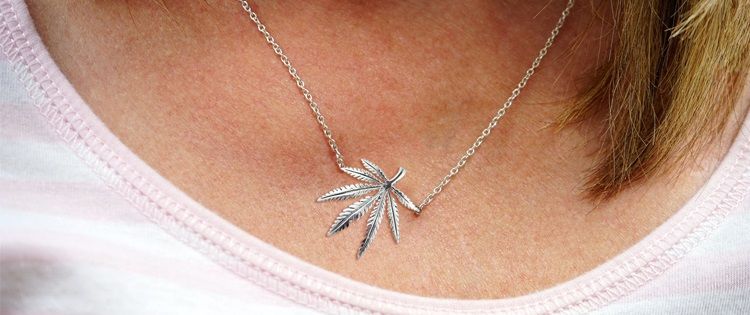 The leaf is also finding its way into stocking designs, clutch purses and other accoutrements carried by celebrities, in particular, to make a statement usually about personal freedom and open expression of beliefs. Strathcona's pink, one size fits all leggings featuring the swirly green leaf have been adopted by M.I.A, Grimes and Solange Knowles.
Stylized Consumption Accessories
What you use to participate in the marijuana culture itself has also become fertile ground for designers to offer new products associated with a specific "look" or even celebrity. This ranges from highly stylized vape pens to marijuana boxes and pipes. And far from the "average" bong, these are, of course, always on the expensive side of stylish.
Miley Cyrus has even launched her own brand of rolling papers – made of 24-karat gold by Shine Papers. They are apparently selling well at her concerts.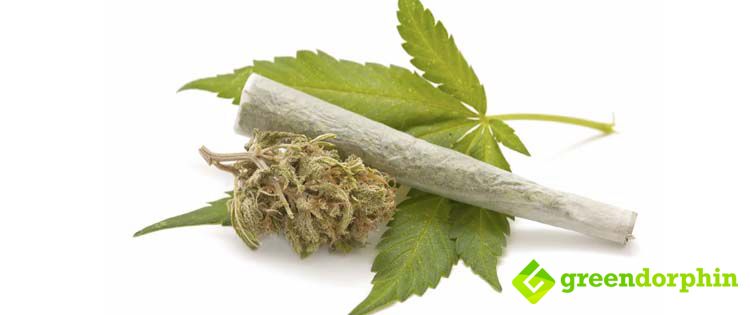 The Long-time Stoner Brands
Then of course there are the brands and accessories who utilized the branding of the weed before it was hip to inhale. The skateboard brand Huf has long used weed motifs to prove how cool their users were. Hemp Hoodlamb not only used hemp friendly designs way before weed became "cool" again, but has long made their clothing out of hemp itself. Then again, what can you expect, after all from an Amsterdam based designer?
What's New is Hip
Part of what is going on right now is the rebranding of the plant and use of it – and for a different audience that is traditionally associated with marijuana use.  A lot of this comes with the upmarket branding of the industry as it finally comes out of the last shadows of illegitimacy.
At the ridiculously high end of this conversation of course, are efforts coming out of La La land. $700 an ounce weed (wrapped in gold foil of course) and $15,000 vapes are all part of the presentation if not the "brand" created by Cheryl Shuman and her "Beverly Hills Cannabis Club" which is of course, targeting the celebrity A-list audience with products priced to guarantee their exclusivity.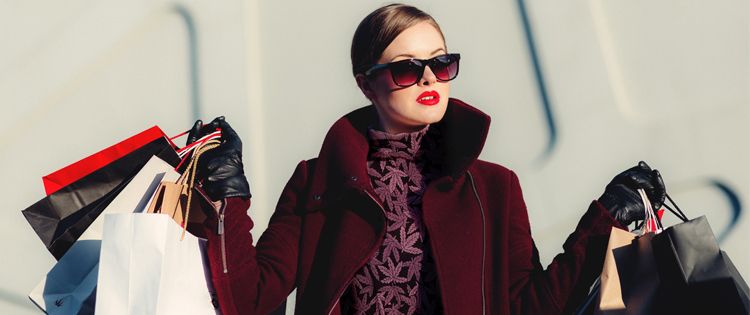 Legalization Is Actually "The New Black"
What all this celebrity and attention really means, however, beyond fashion statements that now come in everything leaf-emblazoned, is that the end of prohibition is its own fashion statement.
The highly priced accoutrements and fashion gear are a sign that it is finally becoming mainstream to admit to using and enjoying cannabis. The association of use of the plant, recreationally at least, is also being reformed into something beyond the overworn "stoner" stereotype of long-haired, countercultural dropout.
And that, ultimately, is the strongest, if not longest lasting, multi-season "fashion statement" that may be only seeing its first walk on the runway this season, but is not likely to soon "go out of fashion."
---
Do you have your own unique cannabis fashion statement?
Why not share it with our community?