For around a quarter of a century, we have been misled to believe that Cannabis can cause negative implications to one's health and towards society in general. People who opposed Cannabis have given us false information and research regarding its cause and effects hence, Cannabis myths and misconceptions circulating within the public's knowledge. This recurring issue leads us to question why?
The Cannabis prohibition and criminalization had a lot to do with war. In the war of nations for example, where Cannabis advocates in the U.S. protested against the 1940's Vietnam War. Those that were high in power saw an excuse to arrest protesters, mostly Cannabis advocates. Charging them with Cannabis possession and incarcerating them, even though this meant incarcerating someone who was trying to push forward peace.
The stigma around the Cannabis plant was created a long time ago, through research that had no concrete data. This stigma is still present in society and is still circulating until this day. Numerous different myths about the Cannabis plant have been fabricated over the years with no concrete data to back it up.
But the truth about Cannabis is slowly coming into the light. The scare tactics that were once used as propaganda are slowly stripped away.
This article is to straighten things out for once and for all regarding Cannabis myths and misconceptions.
Here is a countdown of the 10 most popular Cannabis myths and misconceptions that had us questioning about the purpose of the plant.
Cannabis Myth #10 – Smoking Cannabis Affects the Lungs Worse than Cigarettes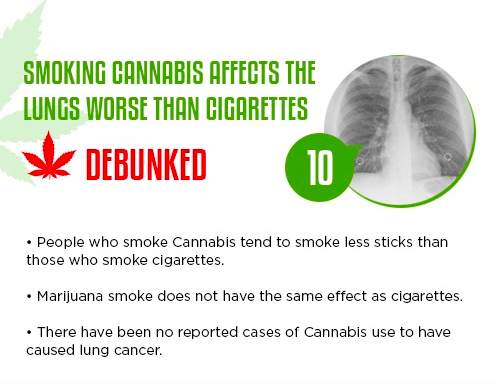 Debunked:
People who smoke Cannabis tend to smoke fewer sticks than those who smoke cigarettes. Considering both parties are frequent smokers, the carcinogenic substances you get from smoking 5 cigarettes as opposed to one Cannabis joint is not really a fair comparison.
Furthermore, there has been evidence of marijuana smoke not having the same effect on the

bronchial tubes

compared to that of cigarettes. Heavy use of Cannabis does not lead to emphysema.
There have been no reported cases of Cannabis use to have caused lung cancer. But much evidence is seen from Cannabis combating cancer in patients.
Cannabis Myth #9 – Elicits Bad Behavior Among Teenagers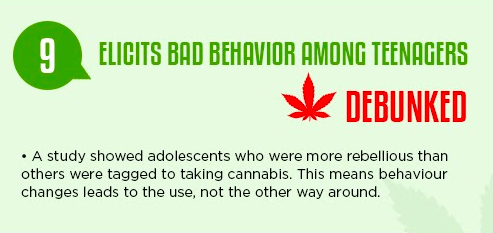 Debunked:
This myth was introduced by the anti-weed propaganda film

Reefer Madness

. Having no concrete data that pinpoints teenager behaving badly under the influence.
A

study

that was conducted during the 1980's, where Cannabis use was one of many unconventional behaviours in 10,000 high school junior and seniors. Some adolescents more rebellious than others were tagged to be taking in Cannabis and alcohol. This does not mean that Cannabis turns people into delinquents, rather points out in adolescents challenges in behaviour.
Cannabis Myth #8 – Makes You Fat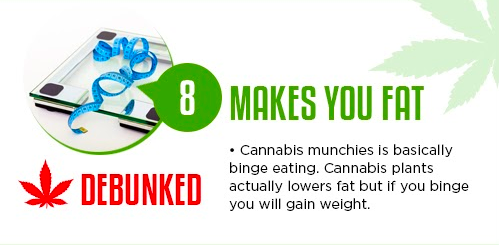 Debunked:
Cannabis, like all other different substances, enters the fat stores in your body. This is why it can be detected for some period of time.
Cannabis is associated with the "munchies", a term used to describe binge eating. As eating a lot of food aids in weight gain,

research

shows us that cannabis actually lowers fat but if you overindulge while high, it's not the cannabis it's the food.
Cannabis Myth #7 – Gives You a Loss of Motivation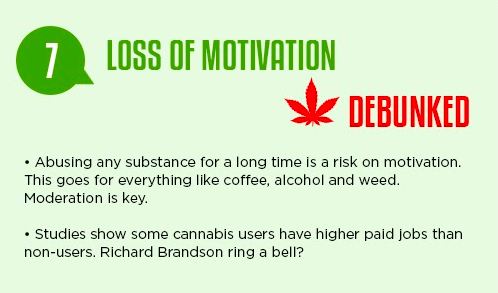 Debunked:
The abuse of any intoxicating substance for long periods of time does take its toll on a person. Where the person's ability to function normally will be at risk. This goes out to all substances including caffeine and alcohol.
Studies

show that a percentage of cannabis users have in fact indicated to have higher paid jobs than non-users. If this is the case, cannabis should be a motivator rather than the opposite.

To know further about the impact of cannabis to successful people, check out Which Successful CEO's Smoke Weed. 
There are 2 types of psychoactive cannabis, the Indica and the Sativa. The Indica gives you more of a

couch lock

body high, relaxing effects. Sativa strains are known to gives you a head high e

nergy boost,

where you may feel much more motivated and focused.
Cannabis Myth #6 – Modern Cannabis is More Potent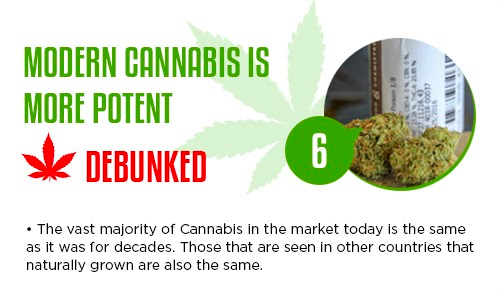 Debunked:
The DEA takes in samples of Cannabis and tests them for potency. These samples are only a small portion of strain and varieties available in the Cannabis market.
The vast majority of Cannabis in the market today is the same as it was for decades. Those that are seen in other countries that naturally grown are also the same. It is in the vast information and easy trade that specific strains get elsewhere, some may be potent as others.
There is also a

statics

regarding Cannabis potency dating back to 1980's which tell us the Cannabis in present time show little to no increase in potency.
Cannabis Myth #5 – Kills Brain Cells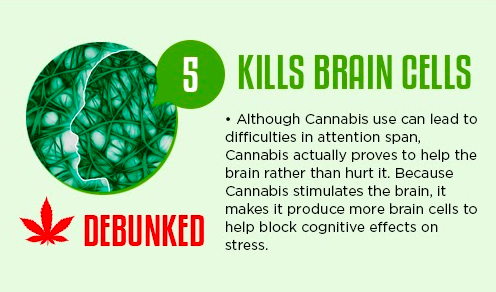 Debunked:
The conclusion behind this myth was not disclosed to the public. Scientist tested monkeys by pumping in 20 Cannabis joints via gas mask in a span of 20min. This was to quickly test if Cannabis killed brain cells after a week of smoking 20 Cannabis joints. Cannabis was not responsible for the loss of brain cells, but the lack of oxygen to the monkey's brain was (horrible study, I know, but the results are important).
There is also a

study

that tells us,  although Cannabis use can lead to difficulties in attention span, Cannabis actually proves to help the brain rather than hurt it. Because Cannabis stimulates the brain, it makes it produce more brain cells to help block cognitive effects on stress.
Cannabis Myth #4 – Gateway Drug Theory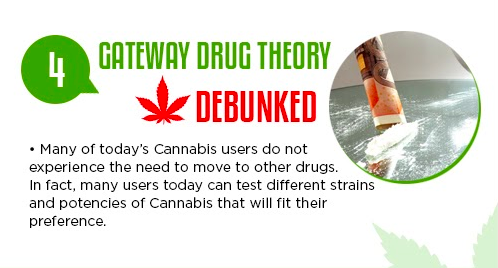 Debunked:
Cannabis is not the reason why most people have a potential to try other substances. Because of the prohibition and the war on drugs, many people who buy Cannabis usually, do this in the black market. The black market can host several other drugs alongside Cannabis. Circumstances, like the absence of Cannabis, may lead a person to be exposed to other drugs.
Many of today's Cannabis users do not experience the need to move to other drugs. In fact, many users today can test different strains and potencies of Cannabis that will fit their preference.
The gateway theory is leaning more towards personal responsibility. It is like because you've been drinking milk, you want to move on to drinking alcohol. This is just another scare tactic that fooled us in the last quarter century.
Cannabis Myth #3 – Memory Loss or Dumbing Down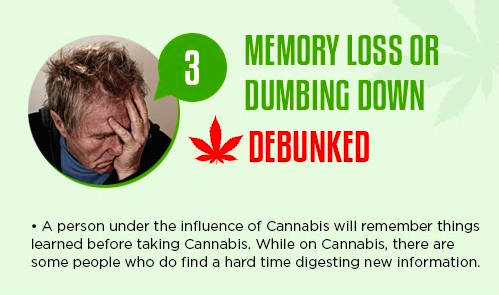 Debunked:
Short term memory loss in Cannabis can happen. This is because Cannabis mimics anandamide in the brain, which is a trigger in forgetting traumatic events. All though this is the case, the memory loss in Cannabis usually tend to fall under the unwanted memories category. This is why Cannabis is prescribed to those who suffer from

PTSD

.
A person under the influence of Cannabis will remember things learned before taking Cannabis. While on Cannabis, there are some people who do find a hard time

digesting new information.
There is no scientific evidence that suggests memory loss related to Cannabis use can become a long-term or permanent problem in a sober state.
Cannabis Myth #2 – It Can Lead to Crime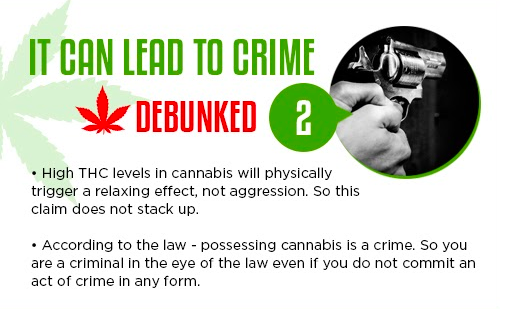 Debunked:
This theory does not stack up because those who use Cannabis is less likely to commit crimes because of THC's relaxing effects on the body. THC, the active component of Cannabis, makes a person feel euphoric, relaxed and less aggressive.
Most of the user in the world are technically classified as criminal just for possessing Cannabis. So it is actually the drug war or the laws towards Cannabis that makes it a crime. Being under the influence of Cannabis is not the case.
Cannabis Myth #1 – Cannabis is Addictive
Debunked:
Cannabis use has no physical addiction toward using the drug, unlike cigarettes or alcohol. Meaning you will not receive withdrawals from it nor have a hard time stopping if you want to.
Psychological addiction is the case when you talk about Cannabis. This is leaning more towards habit building or daily routine. It is not because of Cannabis that a person cannot stop taking it, but it is because of the habit of taking in the drug.
---
What other Cannabis myths and misconceptions have you heard?
Let us know in the comments below!