For those old enough to remember Orson Wells hawking California wine, it appears that the European Revenge might just be on the rebound. And it's not in the wine but beer industry, where this phenom might make itself felt. Which means it also might well end up in a craft beer store near you soon.
Craft beer with some element of either hemp or cannabis is moving fast onto the horizon just about everywhere. However, this is an innovation that is not just limited to the United States.
The Germans are not just moving forward on medical cannabis reform and integration in other words. Those in the hemp industry are taking notice of all the fuss, particularly given the fact that they are already operating perfectly legally. Further, this being Germany, most people with any sort of agricultural or brewing background know that cannabis, hemp, and hops are all not only related, but very easy to brew beer with.
This being Deutschland therefore, where beer and bratwurst are the everyday staples of people who actually do wear leiderhosen and Dirndl at the drop of a hat, expect any beer experiments with hemp to be at the minimum, export quality.
Enter Gruthaus Brauerei. Beyond the mishmash of vowels, this Munich-based brewery means business. They have entered a world of brewing that few in the United States or Canada have yet dared to broach, despite the efforts of a few upstarts elsewhere recently.
Take this (translated) nugget from their website from the 17th of August last year. "Beer Warning: Imperial Cold Brew, Our Little Black is ready. The coffee stout made with coffee and the rye roast malt roasted in our hare roast drum was a very difficult birth. This was mainly due to state inspections from the consumer protection agency in our area. This is because the combination of alcohol and caffeine was significant enough that they took three months to approve our application for an exemption to what is called the 'purity' law."
In other words, beer lovers, these folks are serious about their craft beer. And further, getting registered with the same state which is also moving forward on medical reform, and in compliance with local beer laws. That is also no small feat.
However, with dedication like this, it is also no surprise that this brewery has now created one of the newest entries into Germany's already packed beer market. "Hanf" Beer is here. Münsterländer Hanf was introduced in December 2016. It is a "land beer" (which means something in German beer regulations) but it is also made with hemp blossoms.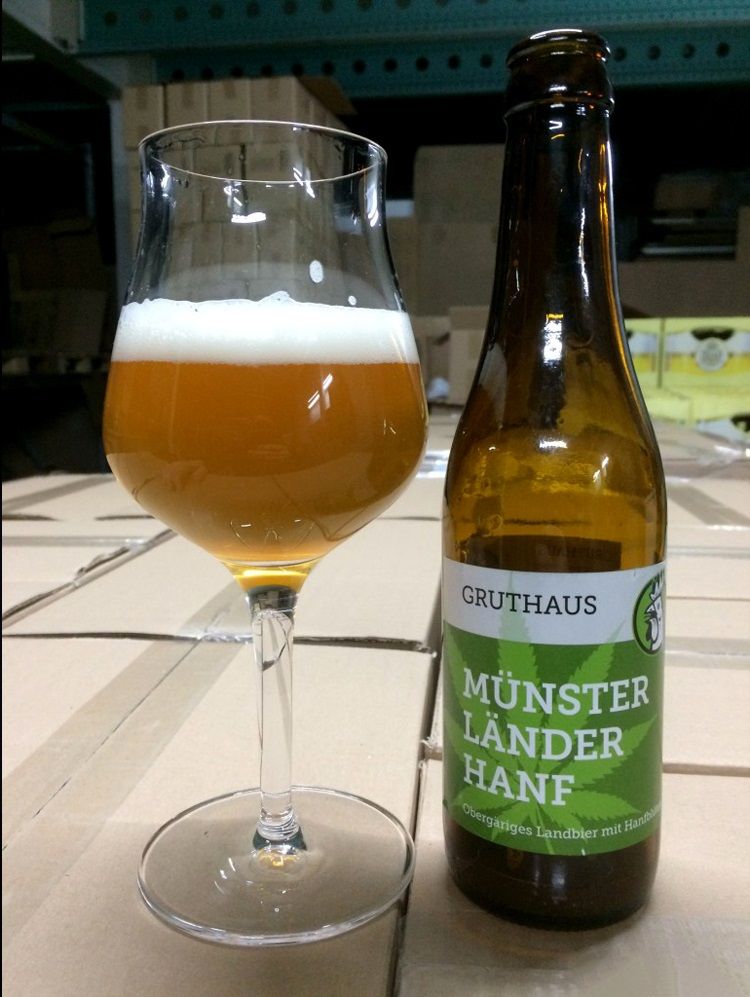 It is also being marketed just about everywhere the word "hanf" is mentioned these days. For American readers, this is a term that is used to describe the overall cannabis plant. It can mean hemp, but it is sometimes used interchangeably with cannabis here. This is one of the reasons that reform has been so tricky politically. However, on the beer front, at least, things seem to be a little less complicated. Hanf is hanf. Hops is hops. Mix them and you need to get the input of the beer purity authorities. If you think like a German, in other words, there are ways around the bureaucracy that might otherwise stump mere mortals.
It is also why there is still so much connection (and likely to be for some time) between startups in this space and overall political discussion about further reform.
That includes political reform parties. Even protesters get thirsty, in other words, and this appears to be a perfect marketing opportunity for a clearly entrepreneurial brewery trying to establish itself for a unique niche market. They were providing (paid) refreshments at a legalization political event in Cologne in mid-May. It looked just like early days in Colorado, with a bit more of an authentically Germanic backdrop.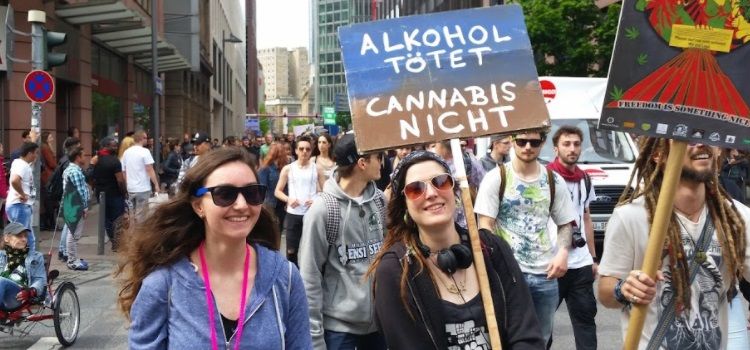 What also makes this interesting timing, however, is potentially how the brewery is also hoping to take advantage of the global interest in all things "hanf" related. The company appears to be angling for the American (and other Auslander) tourist trade with a yen for all things German beer related.
A trip to a hemp beer making brewery in Bavaria for Oktoberfest anyone?
It may not be the trip of the spear of cannabis tourism, but it clearly makes an impressive entry all the same.
---
Have you tasted the Gruthaus hemp beer

? 
Share your experience with our community in the comments section below.