It is no secret that weed has a distinct smell that everyone can notice the minute they are close to you after a smoke. Marijuana has a great habit of announcing itself.
However, knowing how to not smell like weed is crucial because you do not want your boss or landlord to know your business. Imagine going for a job interview, and the recruiter figures out that you enjoyed an epic blunt.
According to BuzzFeed News, half of Americans think that weed smell is a significant problem. Almost a quarter of the population state that they sincerely hate the smell of weed.
If you become paranoid leaving the house after a session, here is everything you need to know to help hide the smell of weed.
How to Not Smell Like Weed?
If you do not want others to know that you have consumed marijuana before leaving the house, the best way to tackle the problem is to prevent it in the first place.
For instance, some people have switched to consuming capsules and edibles to get medicinal benefits without the extra scent. Otherwise, you always need to find a discreet place to smoke.
This may not be easy in residential areas where children play in parks. The next time you visit your local dispensary, have a look at the different types of edibles they have.
This way, you can always enjoy the experience without lingering smells that can hang on your clothes, skin, and hair for a long time.
Use Pipes or Bowls
Another option for medical patients who want to feel the effects of THC faster than an edible is to inhale cannabis vapor from distillates. This is an excellent option compared to smoking a blunt.
You might also want to try some vape pens because they can produce much less smoke. These are perfect because you never need to worry about smelling like burnt paper.
You must set them at the right temperature to get the best effects. Alternatively, you should consider using a pipe or bong.
This way, you can pack a small cone for the perfect hit. It is the best way to avoid being covered in smoke that lingers in the air that people recognize instantly.
Use Sealed Containers
Did you know that the smell of weed can linger on you even if you do not smoke it? If you store cannabis flowers in the open in your bedroom or use a grinder often, all that fresh flower will emit enough scent to give away your plans.
Instead of using plastic bags that are terrible to hide the smell of weed, you should consider buying a vacuum bag or a mason jar. These are ideal for storing in your house in a dry and cool place.
Always make an effort to keep your weed correctly to avoid smelling like pineapple express. The downside is that finding storage can be annoying. However, you can find tubes to store joints that can seal the stench.
Create a Filter
One of the best ways to hide the smell of weed is to use a filter or a sploof that can catch all the smoke when you blow it out. The best part is that you can find commercial sploofs that are easy to use and can be part of your 420 accessories collection.
Alternatively, you can save money by making your own catcher with a toilet paper roll. The key is to use the cardboard cylinder that goes through the middle.
Then you need to attach a paper towel or a dry sheet to cover the end of your cardboard cylinder.
Finally, tie an elastic band around to hold the paper towel in place while you smoke. When you blow out the smoke into your cylinder, the paper towel should help trap the smell of weed to protect you from getting caught.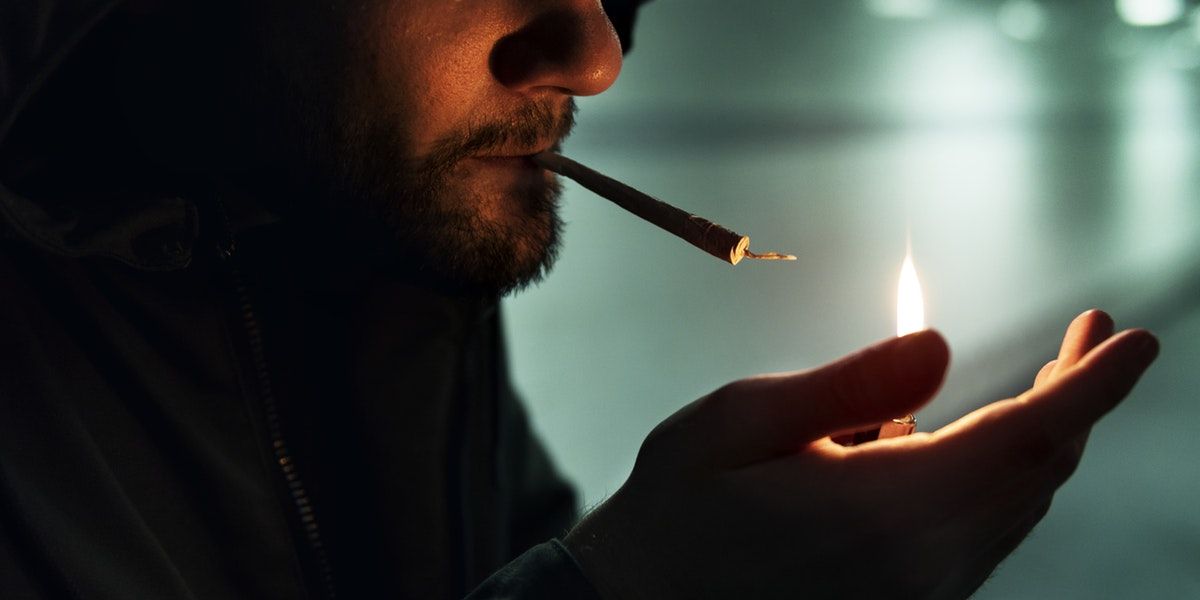 Smoke Outside
If you live in an area where smoking weed is legal, you should venture out for a walk to avoid the smell seeping into all your furniture at home. However, many states with legalized marijuana consumption laws do not allow public smoking.
However, if you have a garden, outdoor terrace, or balcony, you should try to smoke weed there instead of in the living room or bedroom. This is essential to avoid all the smells getting into your beds or couches.
Simply breathe all the smoke out of the window to keep it outside, and watch out for the wind to avoid blowing it all back into your house.
Weed Smell Proof Bags
These are elegant solutions if you consume a very potent strain of weed that stinks a lot. These can be trusted to store at home or in the car if you are worried about the smell.
Bags like these often have filters that help lock in and absorb even the most pungent weed odors. Therefore, you can keep your stash anywhere without reeking the entire place.
If you find the best quality weed smell proof bags, you will find that they are incredibly durable and have a great fabric to protect your goods. They will also be a perfect size that is easy to open.
You can also seal some of your accessories like a grinder and rolling papers in many of them. The sleek design is very discreet because nothing is more embarrassing than opening your bag and everyone turning around.
Hide the Smell of Weed Today
Now that you know the best ways to not smell like weed, it is time to feel more confident when you step out of the house after a session. There are many ways to prevent the smell; the most important is how you store and carry the products.
Remember that even if you do not smoke, the smell of weed can still reek in your rooms.
Therefore, it is best to avoid drawing attention by taking some extra steps to hide the stench, even if you need to collect some toilet paper rolls. For more information, check out our blog; we can provide more information to enhance your weed experience.
Latest posts by Alex Stone
(see all)