The Pirate Party, a legitimate political party here in Germany, decided to throw a party to press for further reform on May Day. This means, essentially, issues like recreational use, driving reform, and widely, the right to grow small amounts at home. This issue, which the government hoped to stymie with medical access to large amounts of cheap pot (up to 5oz per month for about $12), is not dead yet. And it is, truthfully, unlikely to die.
Home grow enthusiasts are much like home beer brewers. These are agricultural labors of love if not revolution, usually led by middle-aged white men who have the budget to afford the gear. Taking that away from them is not a good idea if you want their support on other issues.
For that reason, "piratical" instigation is a necessity right now.
It could not have been a better day to do it. Not to mention the place. The location? Organizational HQ of the North Rein-Westfalen Piraten Partei. It was right on the river, in swanky downtown Dusseldorf. The entrance was on an expensive, new-development clad street. The back spilled out onto a porch and walkway right on the river – even overlooking a decidedly Disnified "pirate" sailboat. The day was gorgeous. Spring has finally come to Germany on May Day weekend. It was clear prohibition did not stand a chance.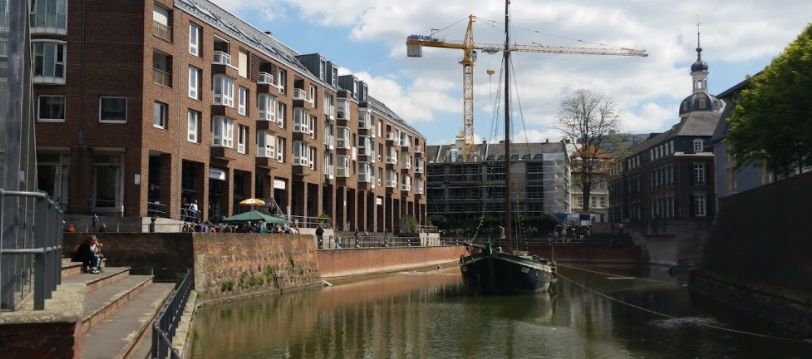 It did not matter that the "party" – characterized by German brot, cheese, beer and squash was not packed during the day. The steady stream of visitors and even onlookers to the day's planned speeches was significant. The "joint march" around the central riverside walkway loop, met with many amused onlookers and even the occasional German wave of acquiescence. Germans, in general, are fairly restrained about public hand gestures associated with any "political cause".
For that reason, such gesticulations of support are not natural. Even "thumbs up" invitations to pose (even for foreign members of the press) are usually ignored – even if politely. Even if the humor on display, a satire of Jesse Owens "lighting" an Olympic torch with a giant "joint", touches on why Germans support political speech if not the greater good about and for legalization.
They also understand in a way that has been lost in America, that single issue politics can unite fractured national discussions on other topics. That is also why this weekend's event was so interesting. If not inspiring. To the average German, the "Pirates" are doing something very culturally accepted, to the point of presenting this concept as "debate." The issue itself is now on the table. The details of who can maintain a home grow hobby are still to be worked out.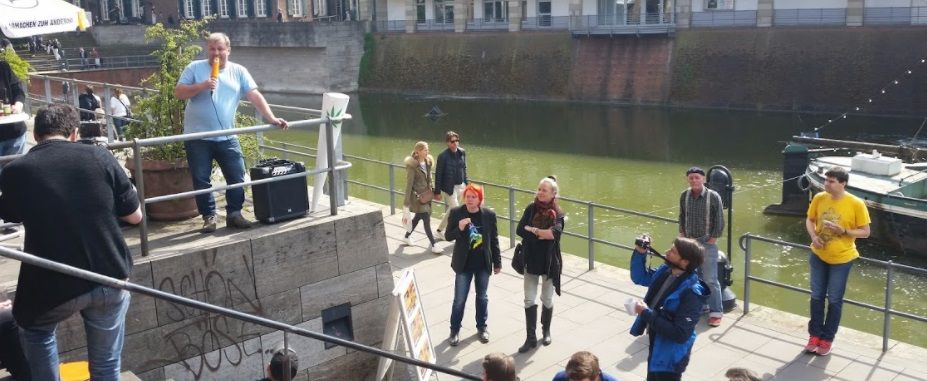 The speeches, by people who have a stake in the game, were also inspiring. Guenther Weglin, otherwise known as one of the three medical patients to force parliamentary change was there. So were people in other aspects of the supply chain. That included a small, registered Apotheke chain which knows a good thing when it sees it. Despite the other discussions on the table internationally about "cannabis pharmacies" there are those who see where their presence in the market already may be turned into a Kannabis Kaufhaus for those with medical prescriptions. No foreign hands, money or influence necessary, thanks to all the same.
Those who mock German entrepreneurialism in this space, time and country do so at their own peril. Particularly in a climate where domestic grow for medical supply has just gone international by design.
For this reason, the mood at the "Pirate Party" was anything but outside mainstream. People know here that they have an issue that can change lives – and in many different ways. They are not about to be quiet at a time when all politics here has taken more of an edge than it has for at least a generation.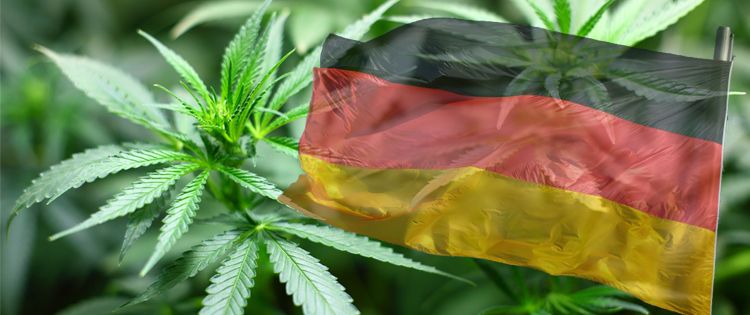 The thing is that Germans know all about revolution. They are denizens of a federal state forged by fire as Americans were slaughtering Indians out west. However further along in their national timeline, they saw a country split apart by two world wars for most of the last century. And brought back together again in the lifetimes of all those who call themselves "Gen X." There is a path to reform and unification around common sense issues, in other words, that is lacking in other places.
Cannabis, many knows, is that green pathway. So Partying like a Pirate, as a deliberate destination, or as a stop along a glorious day along the first day of a three-day weekend, along with the river, just seemed like an obvious thing to do.
Just like, in other words, the concept and path to reform as it begins to take hold here.
---
Your views matter to us. Let our community know in the comments below.