For the perfume aficionado, the cannabis industry has gone far lengths, even exploring creating fragrances that mimic the different and distinct marijuana strains for the perfect aromatic blend of flower and eau de toilette.
The alchemy behind these scents does not necessitate 'getting high' off the perfume, nor does it induce the high through skin application. In fact, cannabis is not infused in the chemistry of pot perfume at all. The mere point of it is for the sophisticated effect of smelling like weed.
Pot perfume is certainly a fresh idea that started as early as 2006 and slowly gained popularity towards the 2010's. Amusingly, there are people who genuinely enjoy the smell of marijuana, to the point where they'd even want to smell like it.
What initially started off as a wholesome pilot release, gained generous fame among like-minded perfumers. Almost anyone can ride on the trend, even non-stoners!
Image courtesy of Xeryna.com
It essentially simulates the essence of cannabis in its bud form, with a luxurious kick; scents range from skunky, to spicy to pastry and berry-like aromas. Because of its low-key au courant nature, much of these brands are currently only available for purchase online, a lot of which are available at Sephora.
Its hype has even quaintly created a subculture of commentary YouTube reviews to paint a better picture of what these perfumes smell like, a niche market with most vloggers hailing the different branded perfumes with good grade reviews.
Though there are some brands that do infuse the flour into the mixture. The man behind Jack, one of the notable brands of pot perfume, Richard Grant launched his own take on the marijuana fragrance in 2014 and actually adding the bud into the fragrance for the natural effect. It does not get you 'high' but instead, gives off a more authentic smell.
Image courtesy of Jack.co.uk
With its very limited accessibility, one may still wonder if this is a regulated practice and if this poses any relevance to the marijuana movement in places such as North America.
The Perfume Lover author, Denyse Beaulieu, explains that perfumers love to experiment with different essences, even taking a thematic approach to their alchemy; with Cannabis perfume, because of its notorious scent, it's a nod to smelling like forbidden or taboo things. It almost smells like quiet rebellion.
While its creation is still very much up for debate, ideally, it is at best advised to purchase the products within states that have marijuana consumption legalized, just to play it on the safe side. But essentially, smelling like marijuana strains may raise eyebrows from authorities, but it will not land you in jail.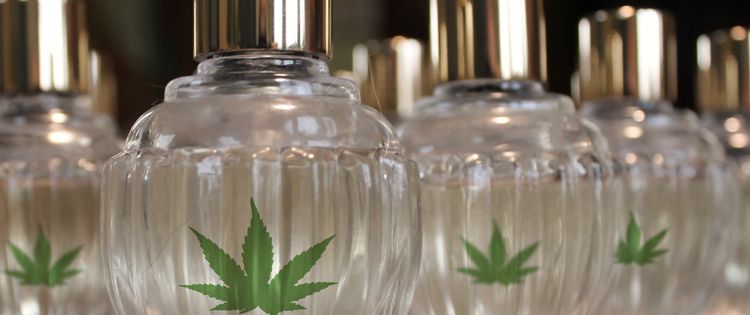 Despite its homecourt popularity, most of its sales and distribution are still predominantly facilitated online, and likewise physically sold in select dispensaries around North America.
Perfumers, however, wish to be able to widely sell their product wholesomely and have it more accessible to consumers just like generic high-end perfumes. Since its creation, there have been more brands of pot perfume popping up, and we're hopeful to see them available in stores, and not just dispensaries, in the coming years.
But truly, these perfumes aren't just here for the 21st-century stoner, but it is to stay for the 21st-century citizen of the world. As we move forward with open consumption of marijuana, efforts such as pot perfume help educate the market about the bud itself and its floral and other wonderful properties.
After all, there's no real harm in smelling like a flower, right?
---
Do you like the idea of smelling like weed? Any strain you fancy?

Share your views with our community.