Marijuana users are increasing by the day and more people are realizing the benefits of cannabis products. With a well-organized process of sourcing for the best quality and healthy marijuana, reputable dispensaries such as Pot Valet, are able to offer a variety of cannabis strains to its ever increasing customer base.
Here are a number of marijuana strains Pot Valet provide and their medical benefits:
#1 Afgoo (Afgooey) Hybrid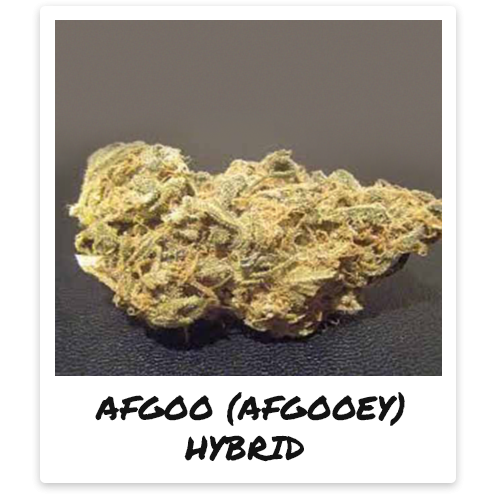 This strain is popular and Ideally, considered an old school cannabis strain that puts together Afghani Indica roots and Hawaii's own Maui.
Benefits
The product has mild Sativa characteristics that tend to offer some creative and uplifting qualities. However, users should not expect much of Indica qualities through it. Rather, it is a good strain for giving sleepy and relaxing effects.
#2 CandyLand (Sativa)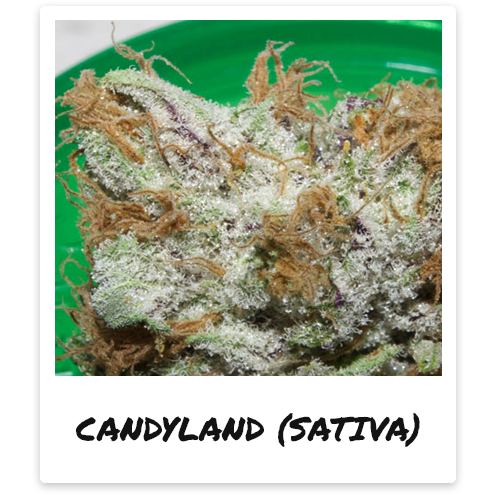 This is a good Sativa that can comfortably be used while in the office. Some people acknowledge that it is helpful during work hours.
Grown in Vacaville California, CandyLand comes in the best quality of freshness.
The product has a strong and sweet taste, and smell too accompanied by a spicy and earthy trace. Its beauty while taking it is enhanced through trichomes and purple traces. The buds are ideally small and dense. They have a darker green shade compared to conventional Sativa strains. Looking at the buds, you would think they have been soaked in sugar. Due to the dull red hairs, the buds appear fuzzy from a distance.
Benefits
Users can consume it even in the company of other people or during the day when they need to be more productive. It stimulates creativity among users and gives them energy to do daytime tasks. Additionally, it enhances moods because of its good THC content level. Users with ADHD, anxiety accompanied by bipolar disorder, depression and chronic pain can ease their situation with it. It has very little or no effects on the human body.
#3 Brite Labs Sativa Oil Cartridges (Sativa)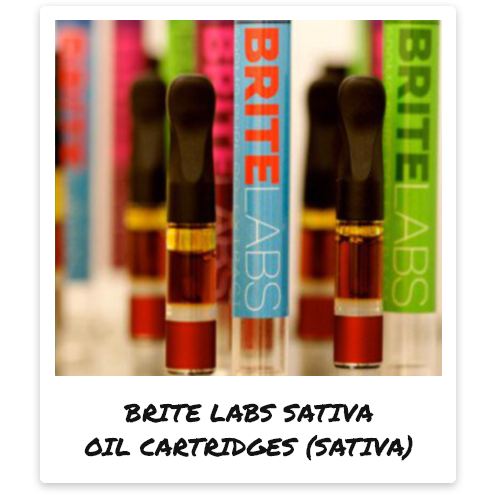 Brite Labs Sativa Oil Cartridges is oil derived from marijuana hybrid strains. The strain contains Sativa hybrid and the increased content of Sativa implies that the plant can be used during daytime and still make the user productive.
Benefits
This strain is useful in treating nausea, ADD, chronic pain and in increasing energy levels of the user. This cartridge can fit in an e-pen because it is a generic cartridge that will work with a number of e-pen vaporizers owing to its design.
Ideally, this is THC in its most unadulterated form that allows users to enjoy the benefits that come with it. The healing abilities of this strain are realized without the need to smoke all the other substances. It offers between 48 and 52% THC content. It can also be used without an E-pen. In that case, users can apply it to the bud prior to using it in order to increase the THC content.
#4 Medi-Roons Lemon (Sativa) Sawtelle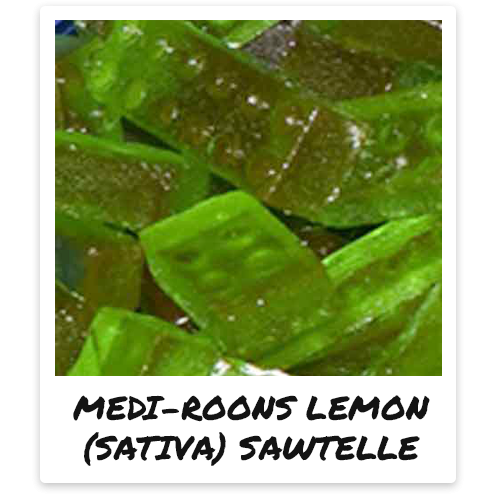 This is one of the greatest marijuana snacks. Essentially, since they are vegan, raw, organic, low glycemic, non-GMO, and paleo strains that have a great flavor characterized by the coconut macaroons nature and the citrus content.
It is a nutritious cannabis product that is a great option for weed users. Medi-roons are prepared using organic dried coconut, cocoa, coconut syrup, almond flour, vanilla extract, CO2 cannabis oil, extra virgin cold-pressed coconut oil and Himalayan crystal salt.  
Benefits
It's medicated form makes it great for diabetics and vegans who have strict diets. It is not harsh like other medicines taken to play the same function.
#5 Granddaddy Purple (Indica)
This is a grape tinge to the aroma of this herb that comes with a sweet taste remaining on the user's tongue for quite some time.
The effects are enduring, giving a smooth feeling all through. The buzz is awesomely energetic and alert instead of having sedative effects.
This is a choice of many who prefer a smoke or vape during nature walks or going for beach trips.  Due to its excellence, the Granddaddy Purple (Indica) has scooped the first prize in more than four competitions such as the Inglewood Medical Cannabis Cup in 2004, and the Green Cup from 2004 to 2006 each year.
Benefits
Granddaddy Purple (Indica) has a great medicinal value. It provides relief to chemotherapy and cancer patients.
#6 Platinum Girl Scout Cookies – Hybrid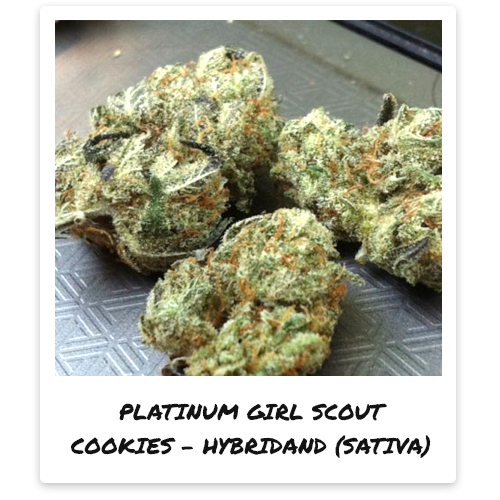 This strain has been on continuous upgrade and is now a cross of Platinum OG Kush, OG Kush and Durban Poison offered by Pot Valet. The aroma fills the user's lungs and nose with sweet notes of earth and pine, followed by some hint of spice. The product shows mounds of crystal trichomes on its dark and green leaves that acts as an assurance for optimal potency for any marijuana patient or any user.
Benefits
The Platinum Girl Scout Cookies-Hybrid is helpful to patients with swelling, severe pain, migraines, nausea, and stress. It offers great and instant relief to both mood-related and physical symptoms of ailing patients.  
#7 White Widow (Sativa)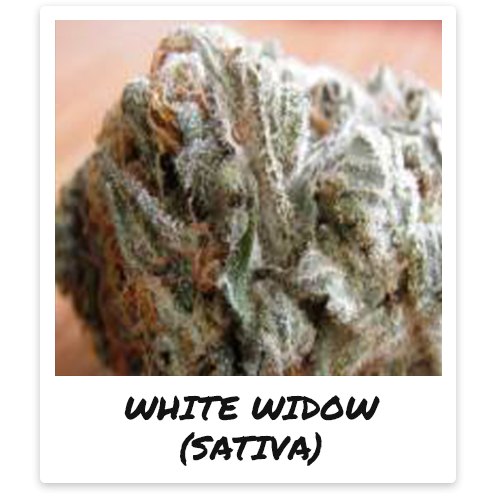 White Widow is widely known across the world as one of the best marijuana strains. It was initially developed in Netherlands producing a well-balanced hybrid.
Ideally, it is a cross between the South Indian Indica and the Brazilian Sativa Landrace that is a resin with high strain of marijuana. The white widow bud is white and is saturated with crystallized resin. It is commonly found in most cafes in Netherlands where weed is famously decriminalized.
Benefits
White widow provides euphoric sensations and energy injections that are felt immediately after using it. It helps users in enhancing performance in social settings, an increased creativity, and enhanced conversational skills. More than that, it is very efficient in the treatment of appetite loss, muscle spasms, anxiety, nausea, acute pain and mood problems.
Pot Valet has continued to offer a great assortment of cannabis strains and these are just a few of them.
However, if you are after any of theses strains in your city check out any good quality dispensary and enquire about the range. Remember to do your research and talk to the representatives to find the right strain for you.
---
Which cannabis strains Pot Valet provide would you like to try out?
Share with us below! 
Latest posts by William Levy
(see all)