As cannabis use becomes more widespread, geneticists are constantly being presented with new strains to cross-breed and experiment with. This has resulted in the birth of some truly magnificent Sativa strains that are the perfect companion to your work life.
The cannabinoids and terpenes present in the bud or wax act together in unison to deliver a buzzing high and operate via a method known as the entourage effect.
If you are interested to learn more about the entourage effect of cannabis, here is a short video with Dr John Teh, Cannabinoid Clinician explaining it in more details:
This post examines the best strains for boosting energy and creativity and helping you to get your work done!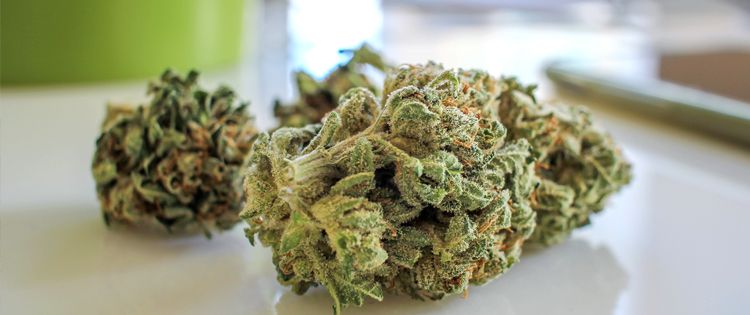 Top 10: Strains to Help You Work
10) Amnesia Haze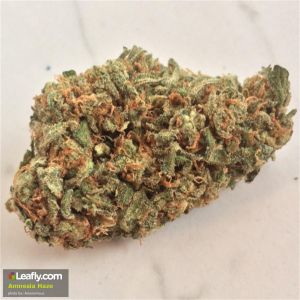 Arguably one of Amsterdam's most famous strains of weed, Amnesia Haze is the perfect company for a morning of creative writing and research.
The extremely frosty buds emit notes of citrus and sweet pine and offer a euphoric, uplifting buzz that could be just the thing you need to get past that lousy writer's block!
The product of crossing Jamaican and South Asian Sativa strains, Amnesia Haze has been a staple top-shelf product for almost two decades.
It's acclaim even won the strain the Cannabis Cup for best Sativa back in 2004.
Source: Leafly
9) Chocolope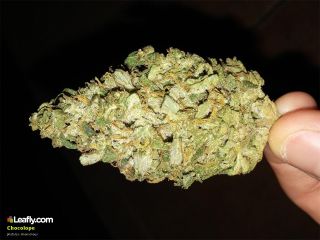 Another old-school powerhouse Sativa strain, Chocolope has been inspiring creative genius for over twenty years.
A great strain for depression, the buzz has great length and creates feelings of euphoria and harmony.
The baby of Chocolate Thai and Cannalope Haze, the near-pure Sativa is great for relaxing and easing the thought process when dealing with a heavy workload.
This might not be the best strain for anxiety due to the cerebral buzz, so starting slow and steady with this sticky bud is the way to go!
Source: Leafly
8) Durban Poison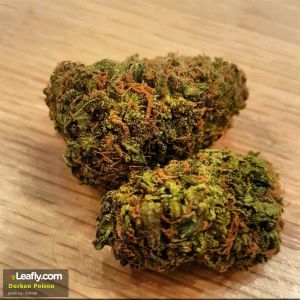 One of only two landraces featured in this list, Durban Poison requires no genetic crosses to enhance its crazy Sativa buzz.
A staple at any good dispensary, the sweet and sticky African landrace creates a fantastic feeling of euphoria and is a perfect remedy for stress and depression.
Durban Poison sprouts compact buds that are actually more Indica in appearance, but the pure Sativa is a perfect strain to get you focussed on the task at hand.
Emitting notes of sweet earthy pine, Durban Poison is the go-to strain for anyone looking to get a bit creative.
Source: Leafly
7) Headband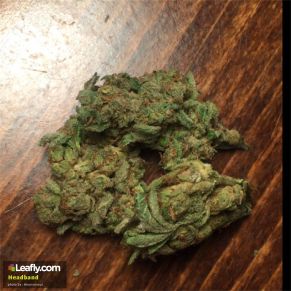 Hybrid strains of cannabis can be awesome for working with as they combine the relaxing effects of an Indica with the uplifting, cerebral effect of a good Sativa strain.
Headband is one of the best hybrids on the market and crosses arguably the two most famous strains of cannabis together for amazing effect.
Headband is the product of splicing East Coast powerhouse Sour Diesel with Cali favorite OG Kush. It's like if Biggie and Tupac did a collab album; what more could you want in a strain?
The ultra-frosty buds are semi-compact and permeate smells of diesel and sweet lemon every time the jar is opened. Perfect for turning a lazy afternoon into a productive study session.
Source: Leafly
6) Jet Fuel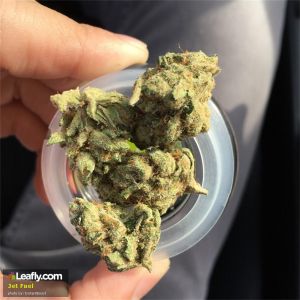 Another Sativa dominant hybrid, Jet Fuel is the culmination of years of research into the diesel line of strains. It reeks of pungent diesel with minor earthy notes and packs a massive Sativa punch.
The perfect way to start a morning of work, Jet Fuel will have your fingers going a million miles an hour on the keyboard as you rush to get out the next brilliant idea.
Jet Fuel generates huge bursts of euphoria an creativity and gives you the energy you need to power through a big day.
The product of crossing East Coast Sour Diesel with San Fernando Valley OG Kush, there's just enough Indica present to make this strain suitable for patients suffering from anxiety.
Source: Leafly
5) Juicy Fruit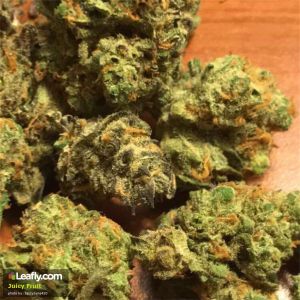 Named aptly after the famous chewing gum, Juicy Fruit's insanely sweet citrus aroma is almost unbelievable. The product of crossing pure Thai and Afghani Sativas, the creative buzz that these buds generate is otherworldly.
This is a perfect strain for creative writers and bloggers due to its stress relieving qualities and light-headed euphoria.
The THC content is mild compared to some of the other strains on this list, but the terpene profile is unique in the sense that it brings total clarity and focus as well as immense creativity.
A must try for any hybrid enthusiast.
Source: Leafly
4) Super Lemon Haze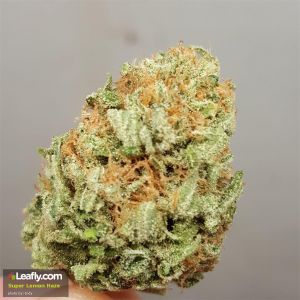 A member of the world-famous Haze family, Super Lemon Haze is an Amsterdam staple, even winning the Dam's Cannabis Cup twice.
The original cross was bred by Amsterdam's Greenhouse Seedbank, however, the true lineage is traced back to legendary Australian cannabis geneticist Scott Blakey, AKA Shantibaba.
The product of crossing Lemon Skunk and Shantibaba's Super Silver Haze, the Sativa-dominant hybrid creates immense energy and euphoria, as well as stimulating creativity.
The plant contains the terpene Limonene in excess and exhibits sweet aromas of citrus that are pleasant to both the nose and the tongue.
Source: Leafly
3) Lamb's Bread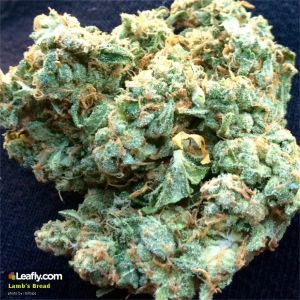 The only other cannabis landrace included in this list, Lamb's Bread (or Jamaican Lamb's Bread) is a pure Sativa variety that allegedly put the wind in Bob Marley's sails on a number of occasions.
Originating from Orange Hill, Jamaica, the heavy hitting Sativa is now grown all over the world and is a crowd favorite due to its uplifting and creative effects.
It resembles a Kush strain more than any other pure Sativa I've seen and grows in bulbous tufts that are thick with resin glands.
The terpene profile is similar to an OG Kush hybrid, with notes of woody earth and citrus, but don't let the smell and appearance fool you; this Sativa means business with massive bursts of creativity accompanying every toke.
Source: Leafly 
2) Mango Haze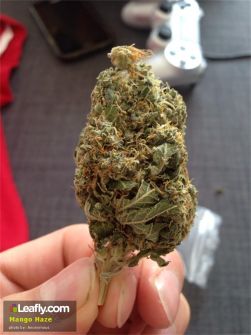 Another product of Shantibaba's genius, Mango Haze was one of the first strains developed by Scott during his time at the Mr. Nice Seedbank.
One of the most famous Haze strains to ever hit the market, Mango Haze is the product of Scott's Northern Lights #5, Skunk and the original Haze strain.
The buds emanate an aroma of sweet, ripe mango and create a strong cerebral effect that's been shown to induce creativity and feelings of relaxation.
A true marvel to behold, Mango Haze's mostly Sativa makeup spawns fantastic ideas and is an awesome strain to work with due to its extremely clear buzz.
Let the sweet tropical aroma blow about as you inhale the intense mango flavors of this beautiful strain.
Source: Leafly
1) Sour Tangie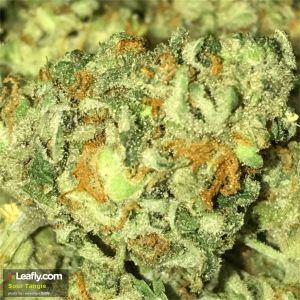 Name a better Sativa pairing than East Coast Sour Diesel and Tangie…..
I'll wait.
The product of crossing the last decades most famous varieties together, Sour Tangie pairs the amazing diesel aroma and taste with Tangie's next-level cerebral effects.
Aside from motivating me to finish this article, Sour Tangie makes every day feel like a warm Sunday morning. Its amazing citrus flavor lingers on the tongue just long enough, and the uplifting feeling that comes with it is enough to get anybody through the day.
I can't recommend this strain strongly enough to anyone looking to get a lot of work done in a short amount of time.
Source: Leafly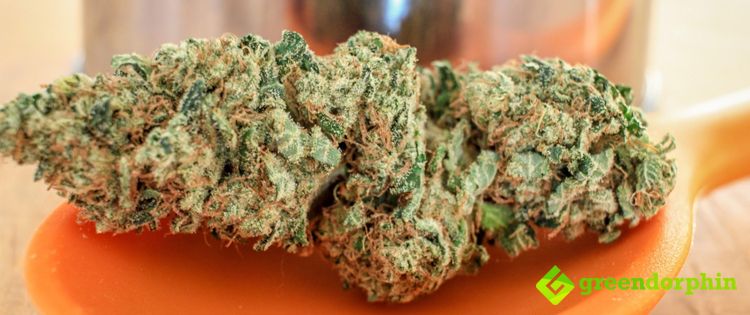 ---
Have you got any suggestions for strains that help you get work done?
Or do you have a suggestion for a Top 10 List?

Let me know in the comment section!
Latest posts by Matt Buchanan
(see all)