If you're a dog owner, there's a good chance you've heard about cannabidiol (CBD) oil.
That's because countless pet owners everywhere have found that CBD doesn't only help humans, it helps our furry friends too!
CBD is a naturally-occuring cannabinoid found in the hemp plant that will not induce any associated high. In other words, unlike its cousin, THC, CBD is non-intoxicating.
It works by activating receptors in your dog's endocannabinoid system (ECS). The ECS is a complex system that's responsible for keeping your pup's body balanced and ensures all systems are running smoothly.
And even though all mammals have an ECS, dogs have more ECS receptors in their bodies than any other species. This means that CBD is especially effective for canines. Their extra-sensitive ECS is also why it's important to give your dog THC-free products – like hemp-derived CBD oil.
CBD can help dogs with a wide range of applications. From a crazy pup to an aging pet, CBD has the natural power to help improve your dog's overall quality of life.
If you're looking for an all-natural remedy for a variety of different dog problems, CBD oil and dog treats from HonestPaws could be the answer you've been searching for!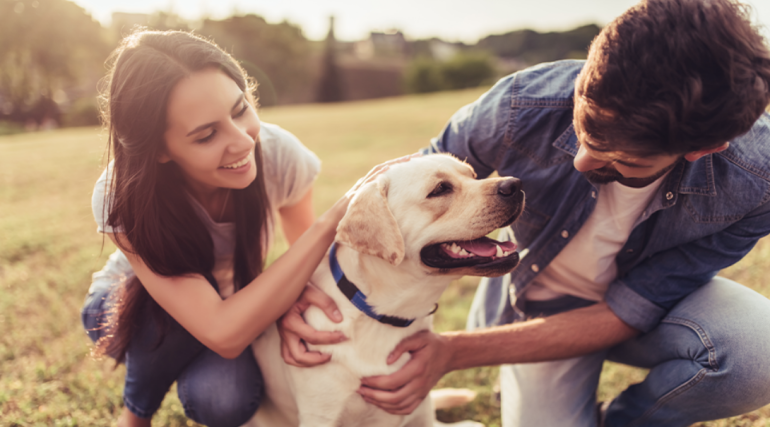 Dog CBD Oil
The most well-known way to give your dog CBD is an oil tincture. This method is popular because it allows for customized dosing and it's as simple as drizzling a dropperful over your dog's daily meals.
When choosing CBD oil for your dog, it's important to make sure the brand you're using is THC-free. Now that cannabis products are becoming more mainstream, it means there are more chances for your dog to be exposed to THC.
While THC-poisoning in dogs may not be fatal, it's an unpleasant experience for both pet and owner and can take as long as a few days to wear off. Common symptoms include trouble walking, lethargy, and drooling. If you ever suspect your dog is experiencing THC-poisoning, it's important to seek veterinary care immediately.
That's why it's important to view a company's Certificate of Analysis (CoA) to ensure that they use third-party testing for their products. The CoA will not only confirm the product is THC-free but also lists things like the CBD percentage and checks for the presence of any contaminants.
Another thing to watch out for is companies that try to pass off hemp oil as CBD oil. It can be confusing for people unfamiliar with CBD since THC-free CBD is derived from industrial hemp.
So what's the difference between hemp and CBD oil?
The difference is that hemp oil is extracted from the seeds of the hemp plant, which do not contain CBD. It can be found just about anywhere and is a nutritious dietary supplement as well as a powerful moisturizer for hair and skin.
CBD oil, on the other hand, is extracted from the entire hemp plant and contains all the beneficial properties of the plant. That's why it's important to make sure you're giving your pet CBD and not hemp oil if you're trying to reap all the powerful properties of hemp.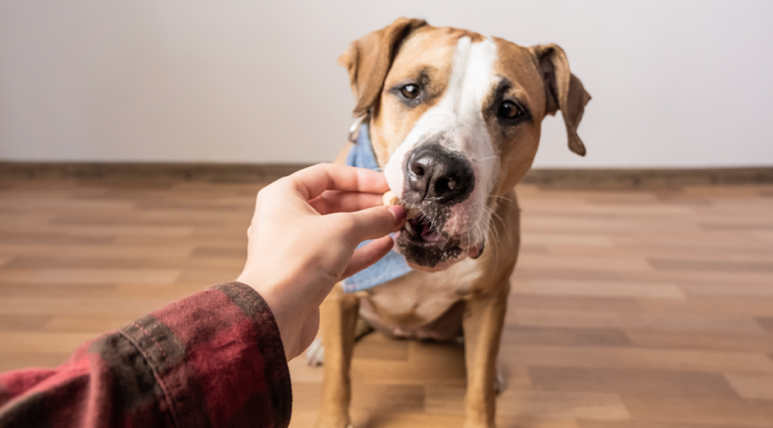 CBD Dog Treats
CBD dog treats deliver the benefits of CBD in a convenient, easy-to-transport form. These are perfect for pet owners who want to give CBD a try because every treat has the same amount of CBD, making dosage easy to figure out.
Most dog treats come in pet-approved flavors like peanut butter, coconut, and sweet potato. Look for brands that use all-natural, USA organically-grown hemp that's GMO and THC-free – as well as human-grade ingredients, like cbdMD.
CBD dog treats are great for aging dogs who suffer from stiff joints and aching muscles. It can be a rewarding and soothing snack that encourages your pup when they're having difficulty with mobility.
They're also great for anxious dogs who get agitated whenever you leave the house. CBD dog treats can help them calm down so their time alone isn't spent chewing on the remote waiting for you to come home.
If you're in the market for CBD dog treats or oil tinctures, make sure you're buying them from a trusted company that uses high-quality ingredients. When it comes to your pet's health, you can never be too careful!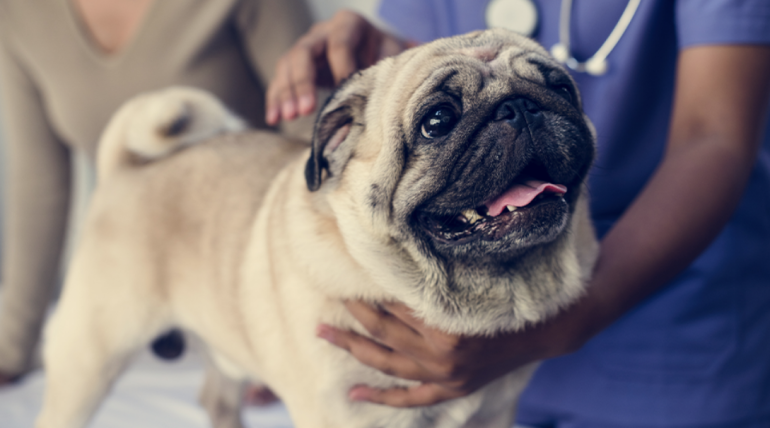 CBD Dosage for Dogs
When it comes to knowing how much CBD to give your dog, there is no "one size fits all." CBD dosage depends on a variety of factors like age, weight, and severity of symptoms. There are guidelines out there to give you a general idea of what might be best for your pet, but the general rule of thumb is to start out at a lower dose and work up from there.
Some dogs will feel the benefits of CBD almost immediately, but it typically takes two to three weeks to see the full results. That's why if you don't notice an immediate difference it's a good idea to wait a few weeks, possibly increasing dosage accordingly.
As with any time you change your dog's routine or diet, make sure to consult with a veterinarian. They can monitor your dog's health and also give you advice and feedback from a professional point-of-view.
Latest posts by Isabella J.
(see all)