The ICBC's first Berlin conference was impressively organized and attracted a highly credentialed, international crowd. Held in a central Berlin hotel with conference capabilities (including translation booth), it was easily comparable in professional services and aplomb as the American and Canadian industry reps could expect at home.
However, there was a difference too. This is Germany. The market, as many in attendance here suddenly realized as they landed, is very different to things back home. For starters, what is sometimes called "socialized medicine" elsewhere (but public healthcare insurance here) is going to be applied to cannabis too? This means, by definition, by the way, that up to 90% of all Germans will be able, theoretically, to get up to 5 oz a month for about $12. "All" that is required is a legally prescribing doctor, public health insurance (which covers this population), a health condition the doctor believes cannabis is justified for, and a local Apotheke.
The scale of the project, when looked at this way, is mindboggling to those in other jurisdictions who have dealt with canna-related matters as a highly stigmatized stepchild. The fact that the Germans are even considering mainstreaming cannabis this way was mind-boggling enough for the Auslanders in attendance. Thus it made perfect sense to them at least, that the Germans would want to consider this carefully, and engineer the proper approach. Starting with regulations.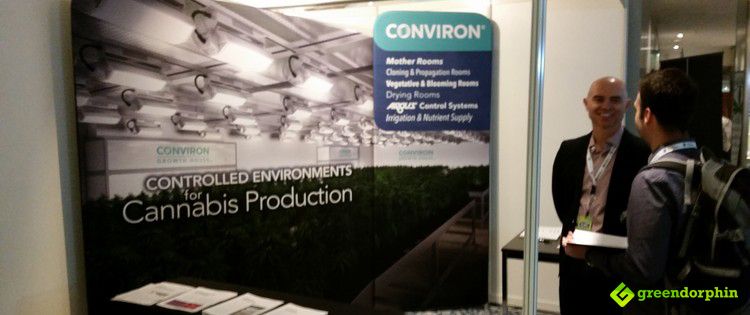 The Germans at the conference, in general, had a couple of reactions. The first interesting mix of news and politics came with the release (by the government during the conference itself) of the first tender bid for domestic grow operations. By definition, the language of the bid favors international cooperation. No German firm can qualify on its own. As miffed as the Germans were (many of whom with the connections to money and grow space if not in other directions to otherwise qualify), by the end of the day they were already talking cooperative partnerships. The American operators, in particular, saw nothing unusual. This is the way the state market has developed since certainly post 2014. Canadian firms who are currently licensed producers seem to be especially well positioned to enter the German market.
However what was even more interesting was the attitude of the several established German firms already in this space. Both are fascinating applications of German technical know-how in a brand new and emerging vertical.
Famed vape manufacturer Storz and Bickel maintained a highly trafficked expo space both days of the conference. The Tuttlingen-based firm is known globally for their Volcano vape. Of course, 90% of their market right now is exports but that is a very German kind of thing to do. For them, it was an obvious market even in the late 1990's, and they entered it with gusto. Now they have home court advantage in a medical market where tobacco is also on the outs.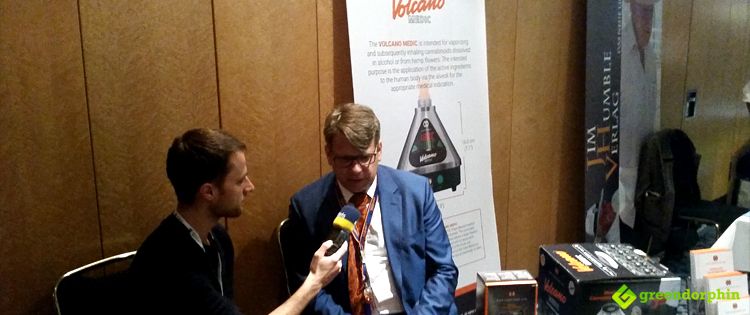 The other is one of the more fascinating parts of the market just about everywhere. Root Sciences was present, with a glass-palace kind of extraction contraption they distribute for German-based firm VTA. In essence, the machine, used for extractions in other processes starting with the pharma industry, separates the taste and smell particles as well as other "impurities" from the cannabinoids placed in it. What is left is odourless and tasteless in other words, and well suited chemically and organically for use as a food or drug additive.
This part of the market, particularly in a medical world where edibles, not to mention things like soda and gum are unforeseen commercial opportunities down the road, is going to be large.
The other place this kind of innovation is going to be enormous is when such companies begin to experiment with what they leave in. Flavanoid and terpene research is still in its infancy, however, the ability to fine tune and isolate the same also requires the same kind of technology. From an R&D perspective alone, the domestic German market for this kind of product is going to be brisk. The fact that an American company, with a Canadian arm, is distributing this German product already, speaks volumes to the international appreciation for this kind of capability.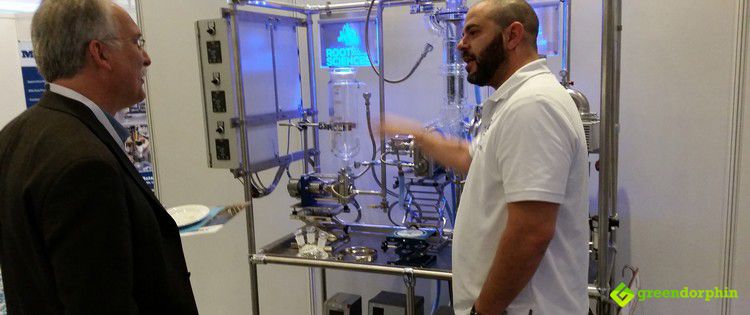 One of the sharpest differences between German and Auslander attendees was the focus on all things commercial. That is partly a reflection of the society itself as well as how healthcare is viewed. Yes, of course, there are many Germans who view recreational use as a human right. Here that actually means a bit more these days. Most Germans also think Trump is a buffoon. They also believe that a society without the kinds of health care they have access to is basically inhumane. The integration of cannabis into the same in a carefully regulated, studied way, is as inherently German, in other words, as beer, bread, and bratwurst.
So while there were certainly Germans at the ICBC in Berlin who left feeling a little miffed at the developing business environment, there were plenty of others who departed with a sense of hope if not seeking out new opportunities. There are many partnerships and coalitions here that are made up of advocates seeking change. Those are only going to get stronger now.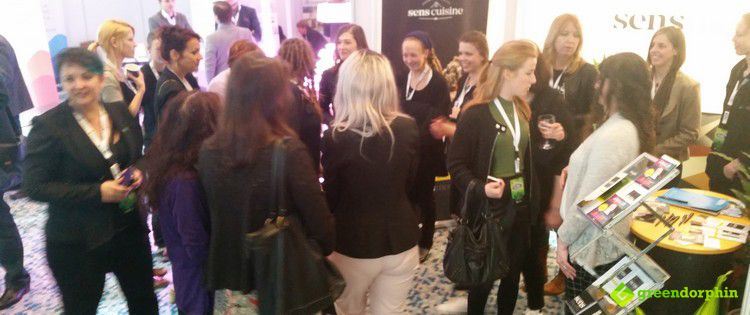 That alone will help shape a burgeoning market of patients. Germans in the know, in other words, are aware that a new day is dawning, and that opportunities if not access is not only just around the corner. It has just arrived.
Expect the German response to be as Steve Bloom (formerly of High Times and now heading up Freedom Leaf) commented: "carefully and superbly engineered."
From the patient perspective at least, and those who work on their behalf, Germany has just entered a whole new reality.
---
Any thoughts on the German cannabiz environment?
Share your views in the comments below.
Latest posts by Marguerite Arnold
(see all)