Thailand is a country of dualities.
It's famous for its beaches; infamous for its drug culture.
The Thai people are open to foreigners; but, they retain their Thai customs and practices.
The tourism industry hosts some of the world's top names in hospitality, while families across the nation provide down-to-earth accommodations for budget travelers.
It's a place where you can heavily sweat climbing a mountain, then shower in an icy-cold waterfall.
I recommend the latter.
If you're a cannabis enthusiast interested in visiting Thailand, there are a few things you should know.
Let's see how a relaxed culture and a strict legal system has created a duality of its own in Thailand.
The Relaxed, Inviting Thai Culture
Palms pressed together in front of the chest, fingertips up, sawatdee. It's a contagious greeting common among Thai people. It's a simple gesture that shows respect, friendliness, and a positive attitude. It feels similar to pura vida! A Costa Rican expression that exudes the feeling and attitude there.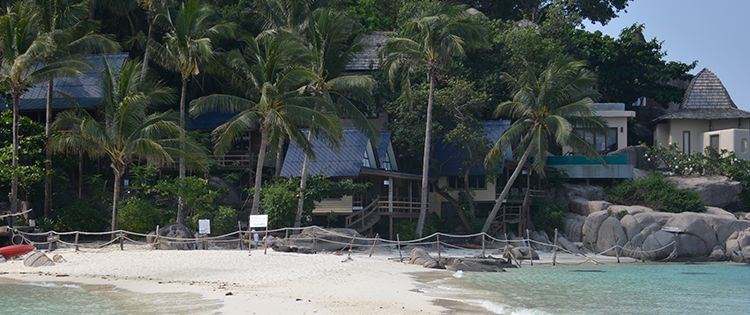 When you're lost looking for some respite from the summer heat, a Thai stranger will spend 30 minutes at a 7/11 drawing you a map you don't understand and explain it in a language you don't speak. You'll walk out of the store a bit frustrated with your lack of understanding. With that map, however, you'll locate the waterpark you wanted to find hidden in an old, flooded rock quarry. When you do, you'll look back and wish you could say to the lady who drew the map, khopkunkha. Thank you.
On the drive home, peak traffic will ensue. It's a trickling dam of metal and rubber as millions of people enter and exit the city at once. You're a tourist, on a motorcycle, in the middle of it all. You're sweating and tense, but no one honks, no one yells out their window or shows you an obscene hand gesture. In fact, it's like swimming in a school of fish; moving together, all at once.
When you make it back to your guesthouse or rugged bungalow, you look back on your day, from the friendly cartographer in the 7/11 to the calm congestion of the highway–and think: Thai people are super chill.
Too Relaxed?
When you open a map in any touristy town in Thailand, you'll see advertisements for guest houses, foot massages, and elephant tours. That's not all' you'll also see Rastafarian style bars.
Many of the Rasta bar advertisements will carry coded language and symbols: "most relaxing," "chill bar," or a peace symbol in quotation marks are some of the usual suspects.
They all mean the same thing: cannabis-friendly. Their level of discretion varies, as does their product, and the chance of selling to you. Spend enough time in any town, and it's easy to hear from expats where to go to find cannabis.
Some bars are perched on mountain tops where you can smoke and stare out over the land. Others are built on stilts over the ocean's break so you can watch fish dance and ease your mind with the sound of waves beneath your feet.
If you can't find it in a bar, tuk-tuk drivers generally know where to find it.
With how easy it is to locate and how prevalent its advertisements can be, you might think that the Thai government is relatively liberal in its approach to cannabis.
You would be wrong.
Thai Laws Regarding Cannabis
Though Thailand's notoriously strict drug laws have eased slightly in the past few years, that doesn't mean it's a wise decision to consume any there. Cannabis is considered a class 5 narcotic by the Thai government and penalties include prison time and steep fines.
I would not recommend consuming cannabis openly in Thailand.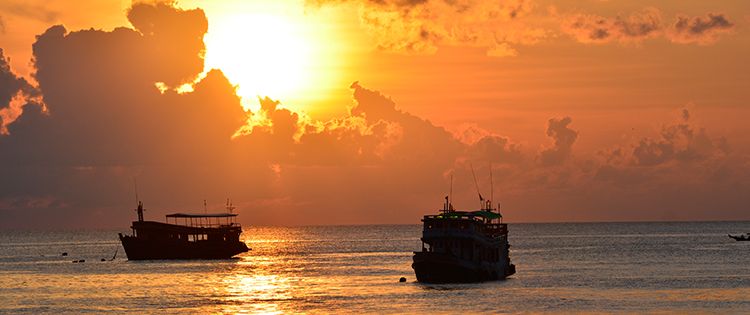 The Rasta bars and streetwise tuk-tuk drivers give tourists an air of confidence in their search for cannabis. That does not mean they are safe. There is no halo of protection for tourists just because a local helped them find an illegal substance.
As I mentioned, drug laws in Thailand have been easing in the past two years. With medicinal and recreational acceptance expanding into the mainstream Western mindset, Thailand seems to be following in their footsteps. Thailand is now allowing hemp to be cultivated and studied. It's a good step in the right direction.
Again, at this time, I would not recommend flying to Thailand in search of cannabis.
Conclusion
Sure, you can find it easily enough.
You can enjoy cannabis on a mountaintop or a pristine beach in Thailand. That doesn't mean you should.
There are lots of countries with more liberal cannabis laws in Southeast Asia, why not try one of them instead?
If you're looking for the natural high of beautiful beaches, Thailand is the place.