The hottest trend taking the global cannabis scene by storm right now is disposable dab pens and dab cartridges. These cartridges contain liquified cannabis oil and are as discreet as it gets. 
Big vape brands like Pax and JUUL have jumped on the idea, bringing out compatible pod-style dab cartridges with their new wax pen, the Pax Era. 
I recently copped a couple of liquid vapes from the guys over at The Hippie Vaporizer and have had an awesome time breaking them down and toying around with some dab cartridges.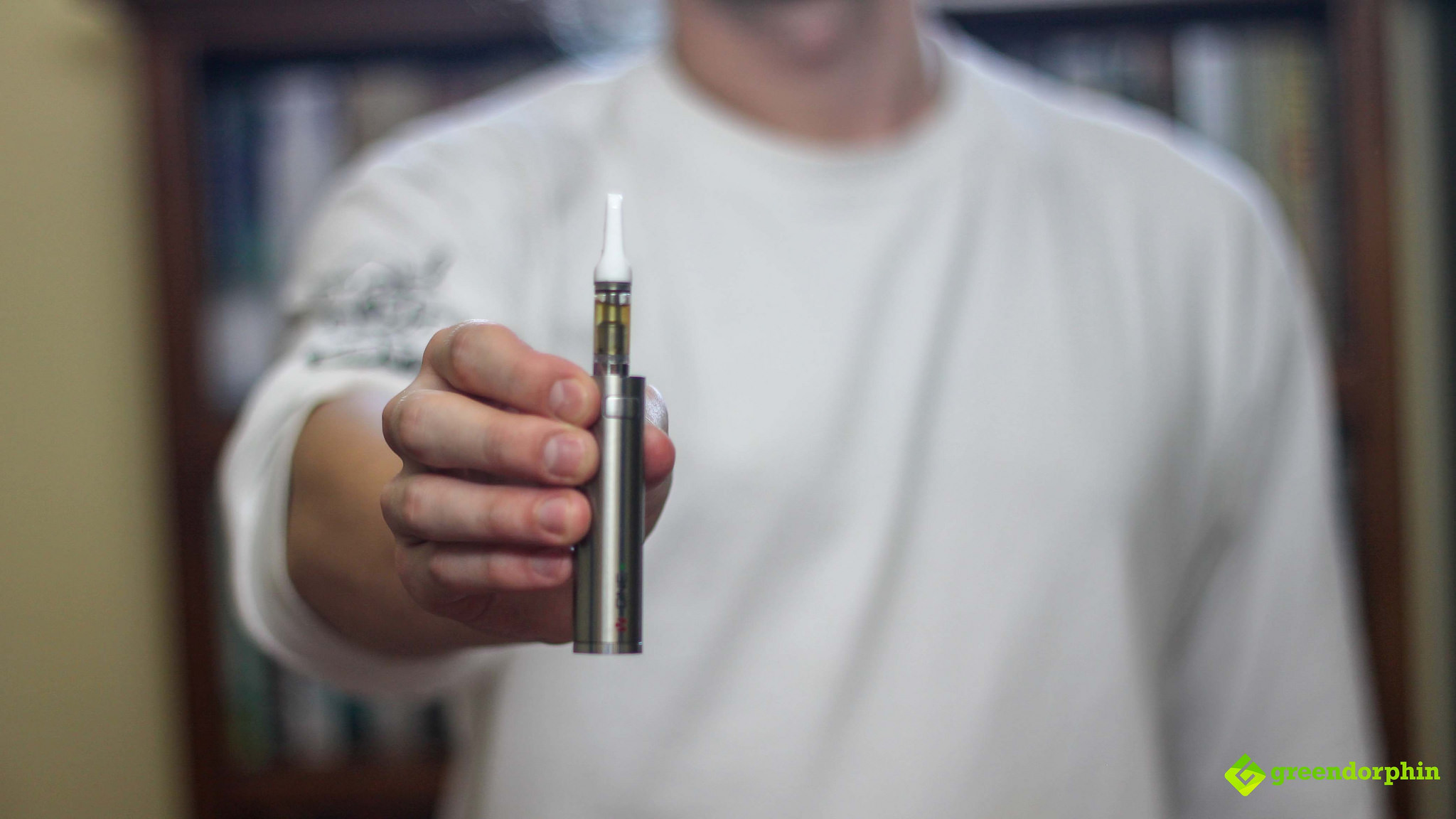 While cannabis concentrates are still a relatively new concept in most places, it's actually super simple to make your own dabs and dab cartridges, especially if you keep your kief and press some hash to convert into hash rosin. 
If you can get your hands on a hair straightener, an unbleached coffee filter, and some hash and parchment paper you can squish out your own rosin in no time! 
However you happen to come across your dabs, you should really consider putting some wax aside to convert into cannabis distillate that can be vaped using any eCigarette.
In this post, I'm going to be turning some Blueberry Kush Rosin (flower) into some cannabis-infused eLiquid that will work with any cartridge vape or box mod.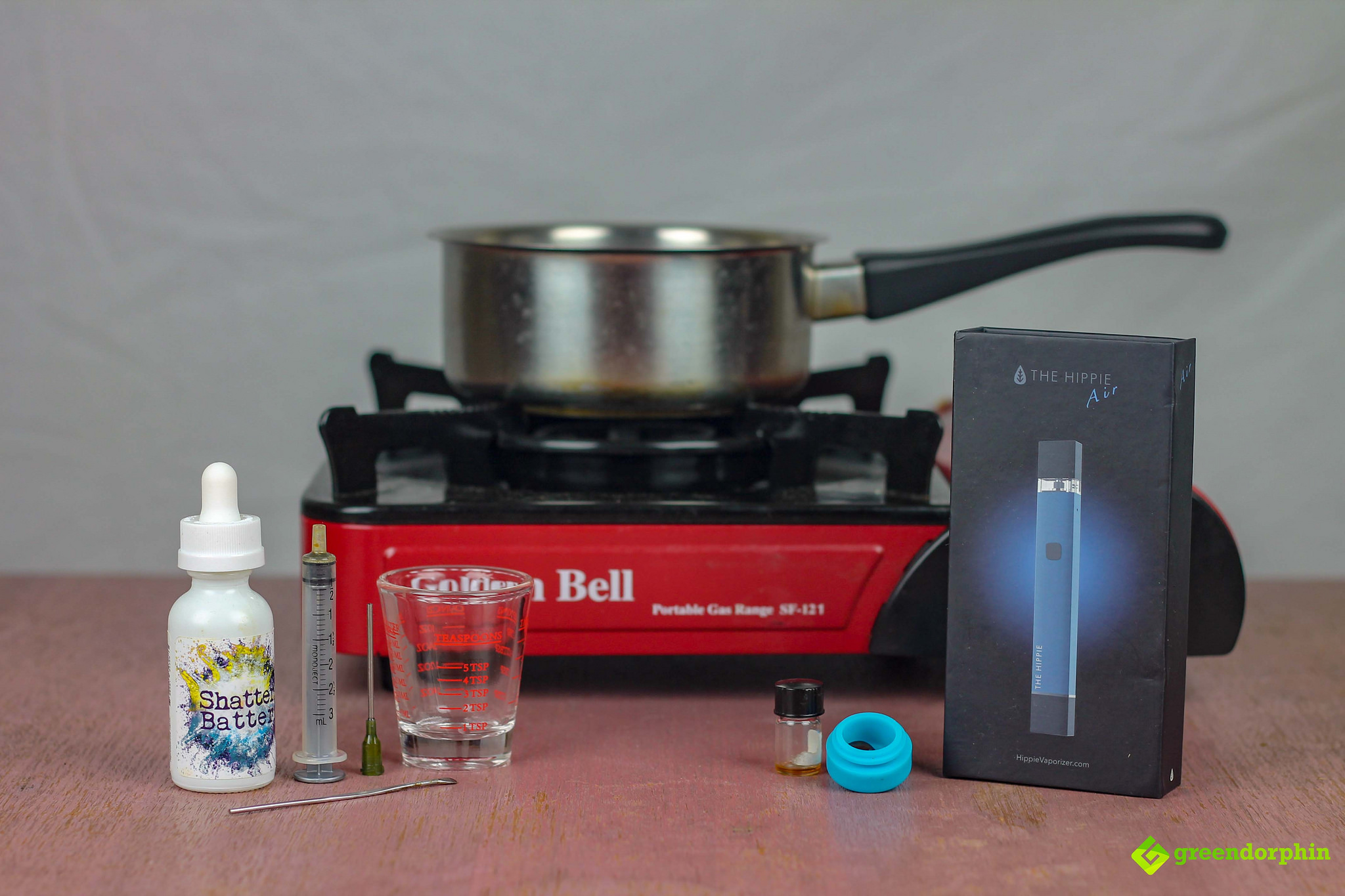 DIY Dab Cartridges with Shatter Batter & The Hippie Air
So a pen that I recently discovered that's pretty similar to the JUUL eCigarettes that are huge right now is The Hippie Air by The Hippie Vaporizer crew in the US. 
The Hippie Vape has a number of eCigarettes for sale, but my favorite by far is the slim and sleek, Hippie Air pod-style vaporizer.
For this post you're going to need the following: 
A Pod or Cartridge Style Vaporizer & Pod/Cartridge
Shatter Batter or a Similar Base Liquid (Preferably Flavorless) 
A Syringe w/ 1.5mm or Larger Tip
Shot Glass or Similar Glass or Silicon Vessel
Some Dabs – up to 1-Gram – I Used 0.3-Grams of Concentrate
A Pot of Water and Stove Top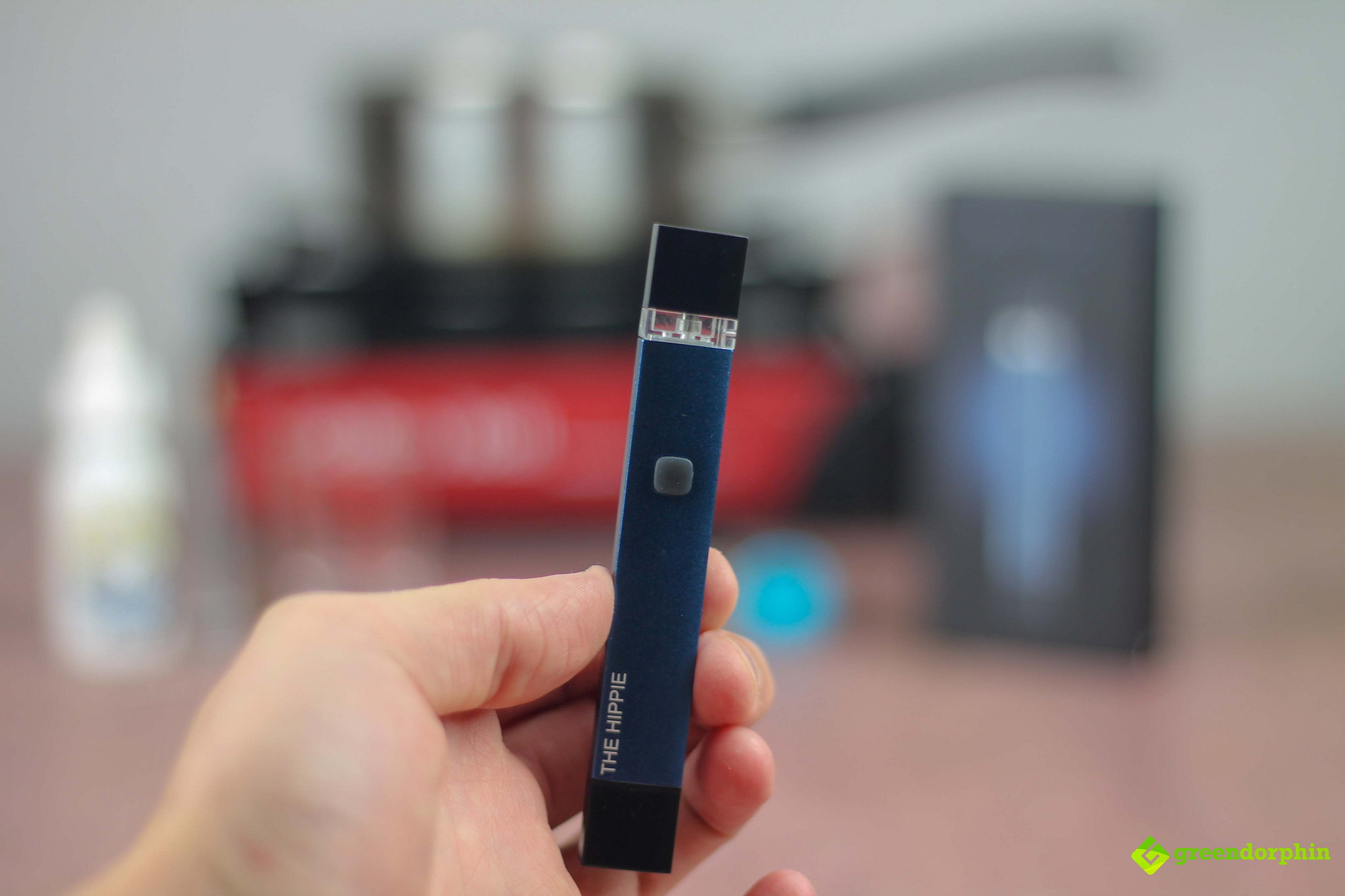 Choosing a Vaporizer
The Hippie Air Vape is an ultra-lightweight, ultra-durable pod style vaporizer that's perfect for both eLiquid and dab cartridges. 
Equipped with a hidden USB charger in the base, this little vape will slide directly into a USB-port just like a flash drive would! In fact – if you pull that pod out you'd have no problem concealing the Air's true nature. 
While the vape only features the one operation button, The Hippie Air pod vape isn't quite as simple as it may appear to be!
A quick double tap will send the vape into a 15-second preheat mode, while three clicks gives you the ability to cycle between the three voltage modes. The Air can circle between 2.7V, 3.1V and 3.6V.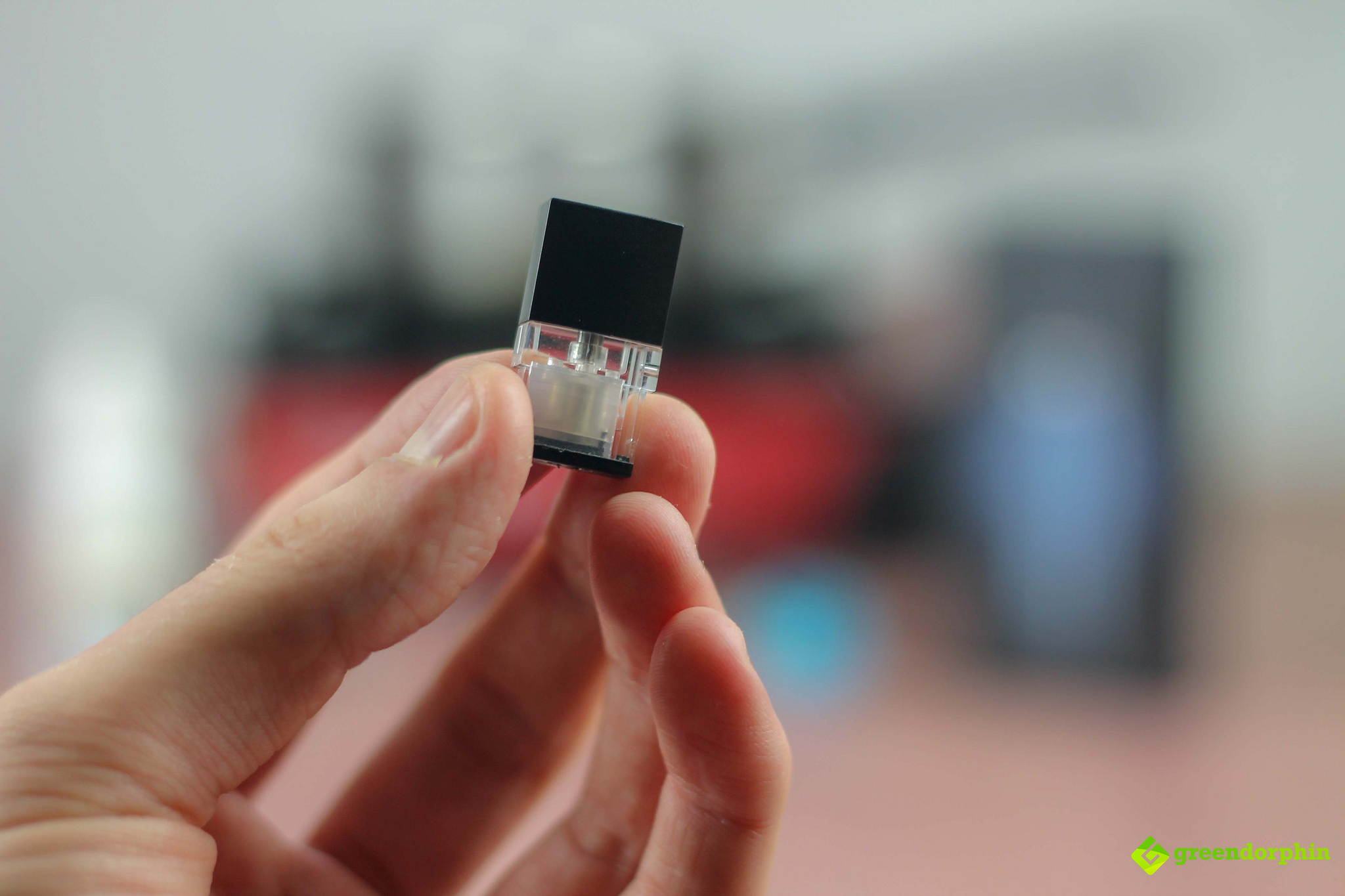 The Pod Cartridge
The pods themselves hold up to 0.5ml of distillate of eLiquid, meaning you can have up to half a gram of liquefied dabs in your pod at any given time.
Unlike the traditional 510-thread vape cartridges that are used by most retailers to dispense their liquefied cannabis, these Hippie Air Pods are super easy to fill owing to the wide opening under the mouthpiece.
There is a silicon lid underneath the mouthpiece with a number of bungs that help to keep the liquid inside from leaking out.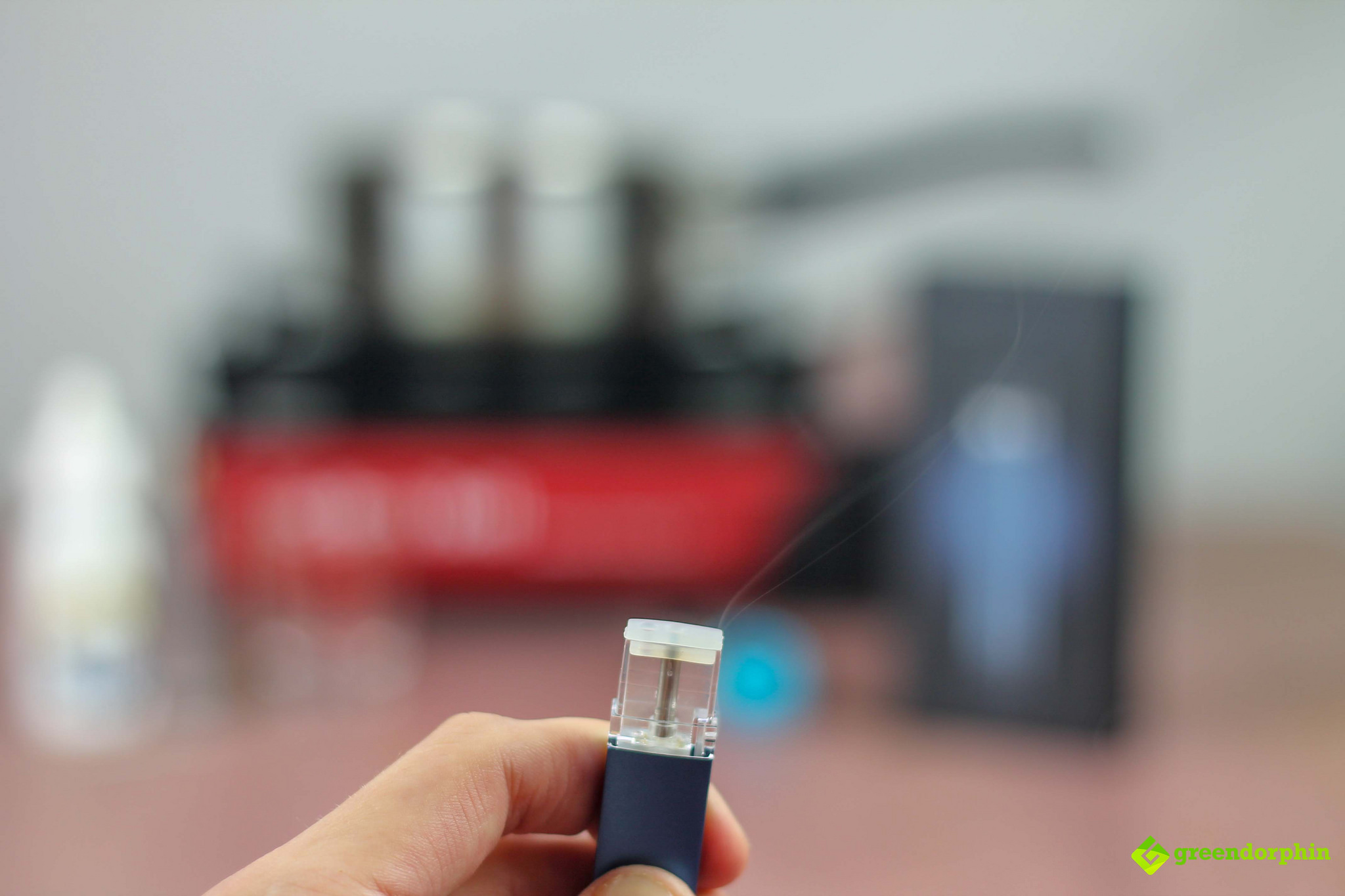 Burning Off
As with all vaporizers, you should definitely burn off your Hippie Air pods before filling them up. Burning off your vape helps to clear out any unwanted manufacturer oils or dust particles from the vapor path.
The picture above was taken whilst burning out one of The Hippie Air pods and the stream of thick smoke that's escaping from the pod is evidence enough!
Now they say not to heat these pods without liquid inside – but a quick burn-off isn't going to do the vape any damage. I recommend preheating the cartridge twice on the highest temp. 
Now, depending on how much cannabis distillate you're looking at making, you're going to have to measure out your concentrate quantity beforehand so you can decide how much shatter batter to add to the mix. 
This little silicon tub above contains roughly 0.8g of cannabis concentrate, Blueberry Kush Rosin to be exact, and for the task at hand I was prepared to sacrifice 0.33-grams (1/3) for the purposes of science! 
And getting mad high.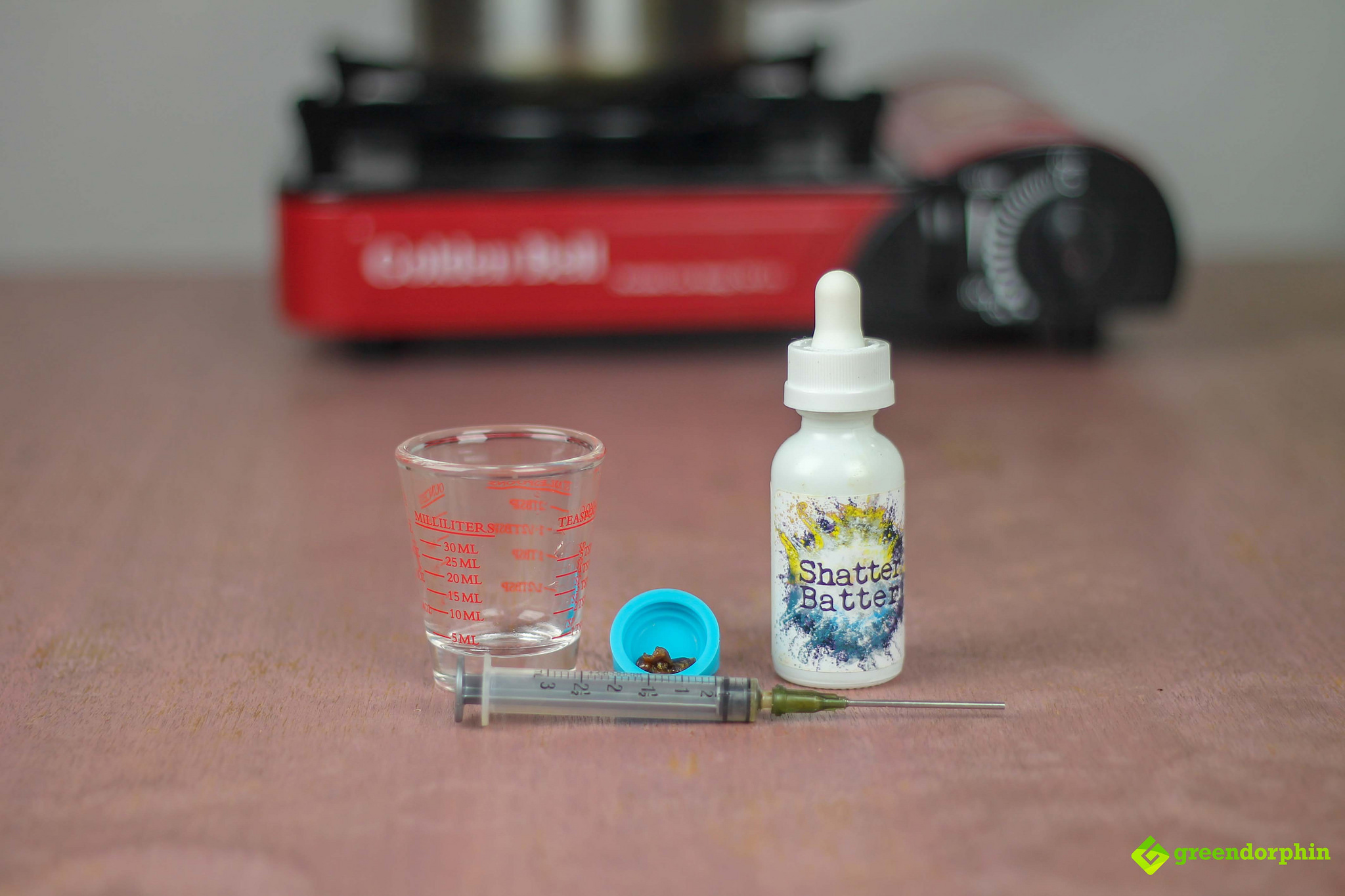 Measuring Your Mix-Ins
Shatter Batter includes a tiny blunt-end syringe with every bottle of their base liquid, and this little pumper is going to be a huge help during these next few stages. 
You're going to want to measure out your concentrate and have it sitting to the side in a container before starting to measure out your Shatter Batter. 
For every gram of concentrate, the instruction card calls for 3ml of Shatter Batter, so for my 1/3 of a gram I simply used one milliliter and then placed the concentrate on top of the liquid in the glass cup.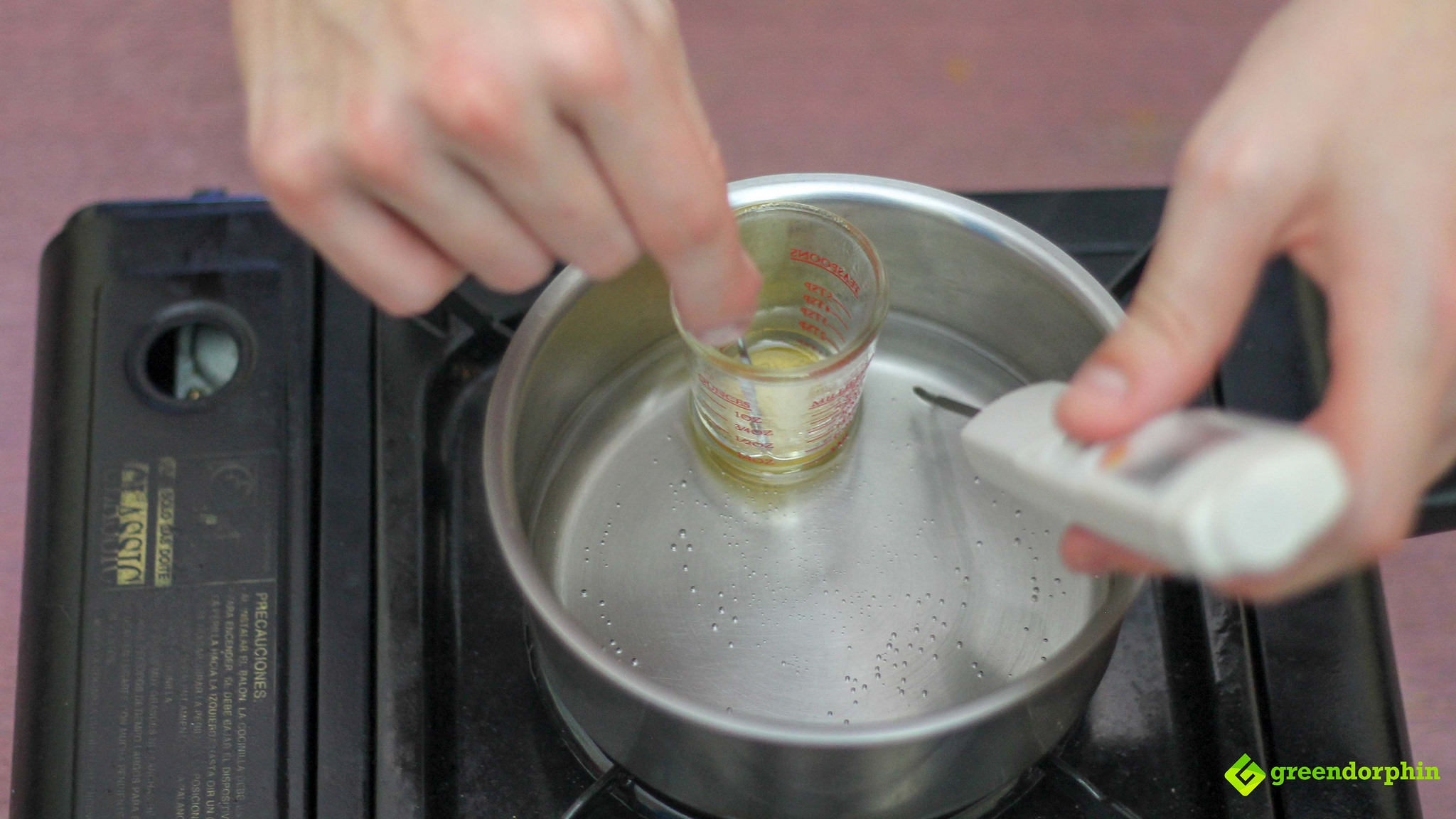 Heating
Using a saucepan that's been half-filled with water and a stovetop, bring the water to the point that it's almost boiling before adding the cup in. 
If the water is too hot your cup will rattle and you are going to lose some of those essential flavonoids and terpenes as we want them all present in the dab cartridges. 
I try to keep the water temperature between 175°F-195°F (80°C-90°C) as I'm not looking to decarboxylate my mix.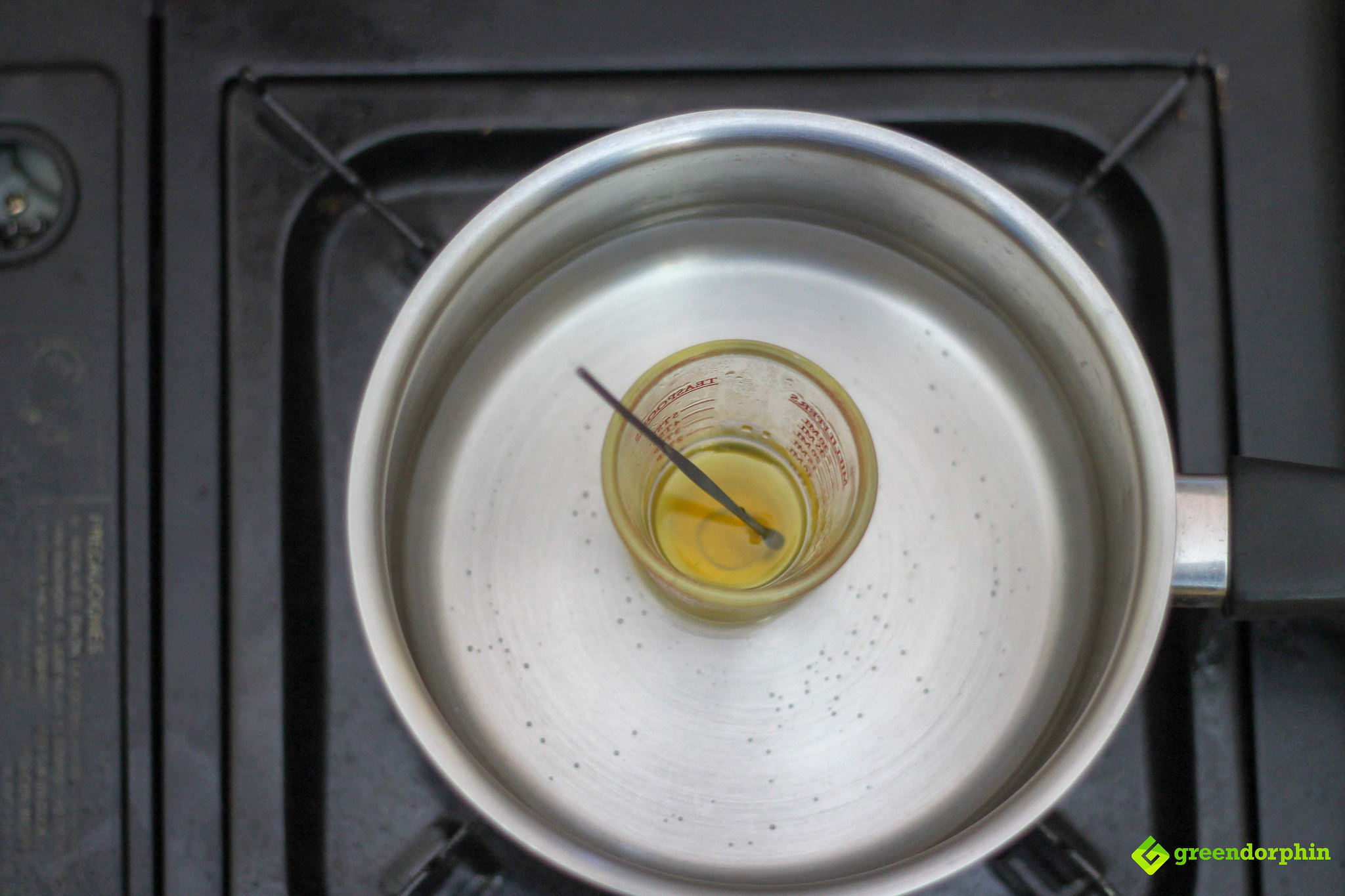 Mixing
For a consistently viscous mixture, you're going to want to stir the Shatter Batter and dab blend for the duration of the heating process as this will ensure that a perfect blend occurs. 
In the past, not stirring the mixture vigorously has resulted in a lumpy end product that has tiny chunks of dabs floating around in the clear liquid. 
The concentrate blend will take on a golden, almost amber color, indicating that those oils are dissolving and blending into the base liquid. Your dab cartridges will get a little darker as the mixture cools.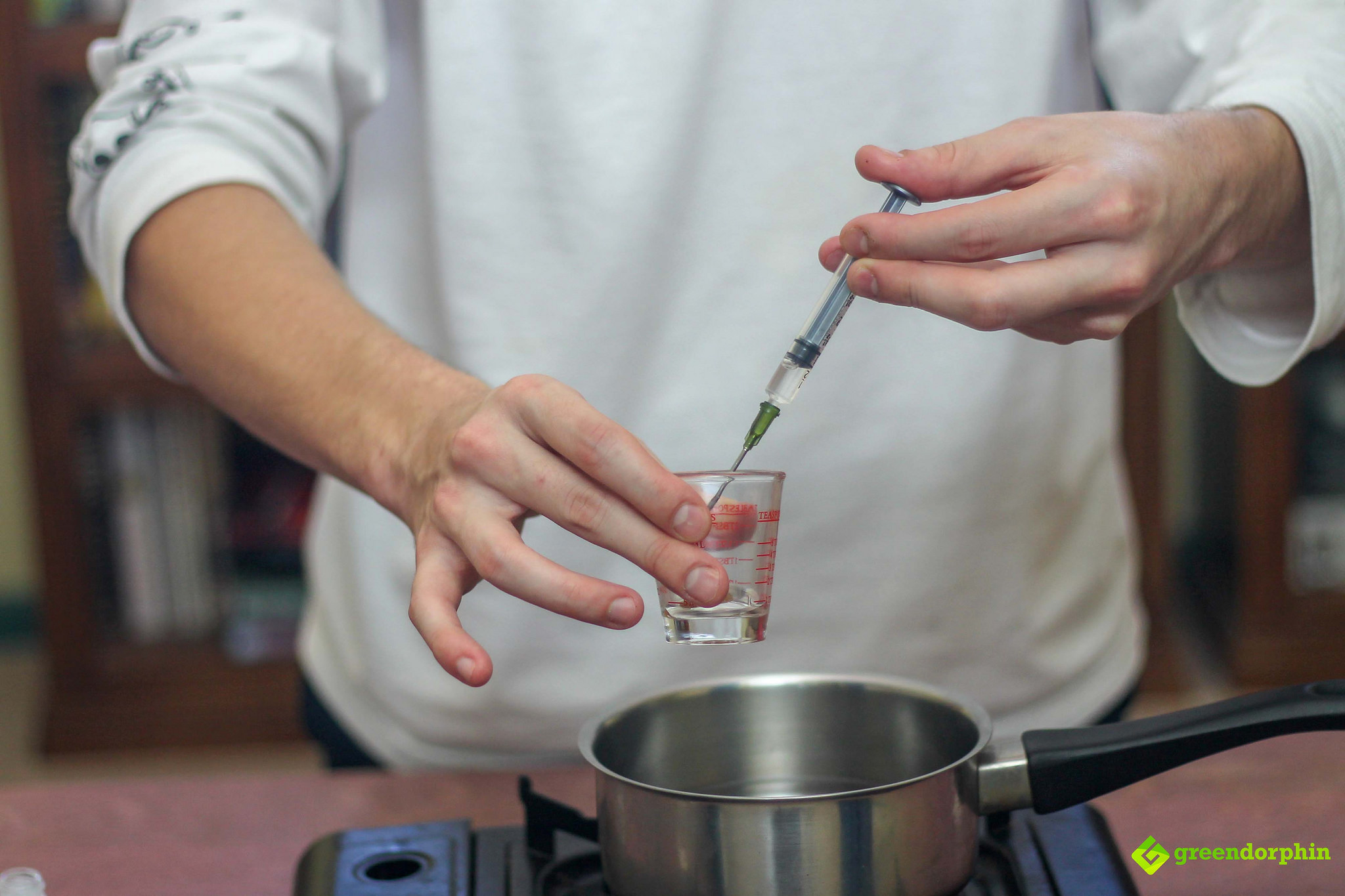 Filling
For the next step, you're going to want to work quickly but efficiently. There's no use losing your head, just keep your cool.
By the time the mixture has reached the correct consistency, remove the top caps from your Hippie Air pods and prepare the cartridges for filling. 
Remember that these pods are extremely compact, and a tiny plunge is all that is needed to squeeze a few droplets of your liquefied cannabis into the pod.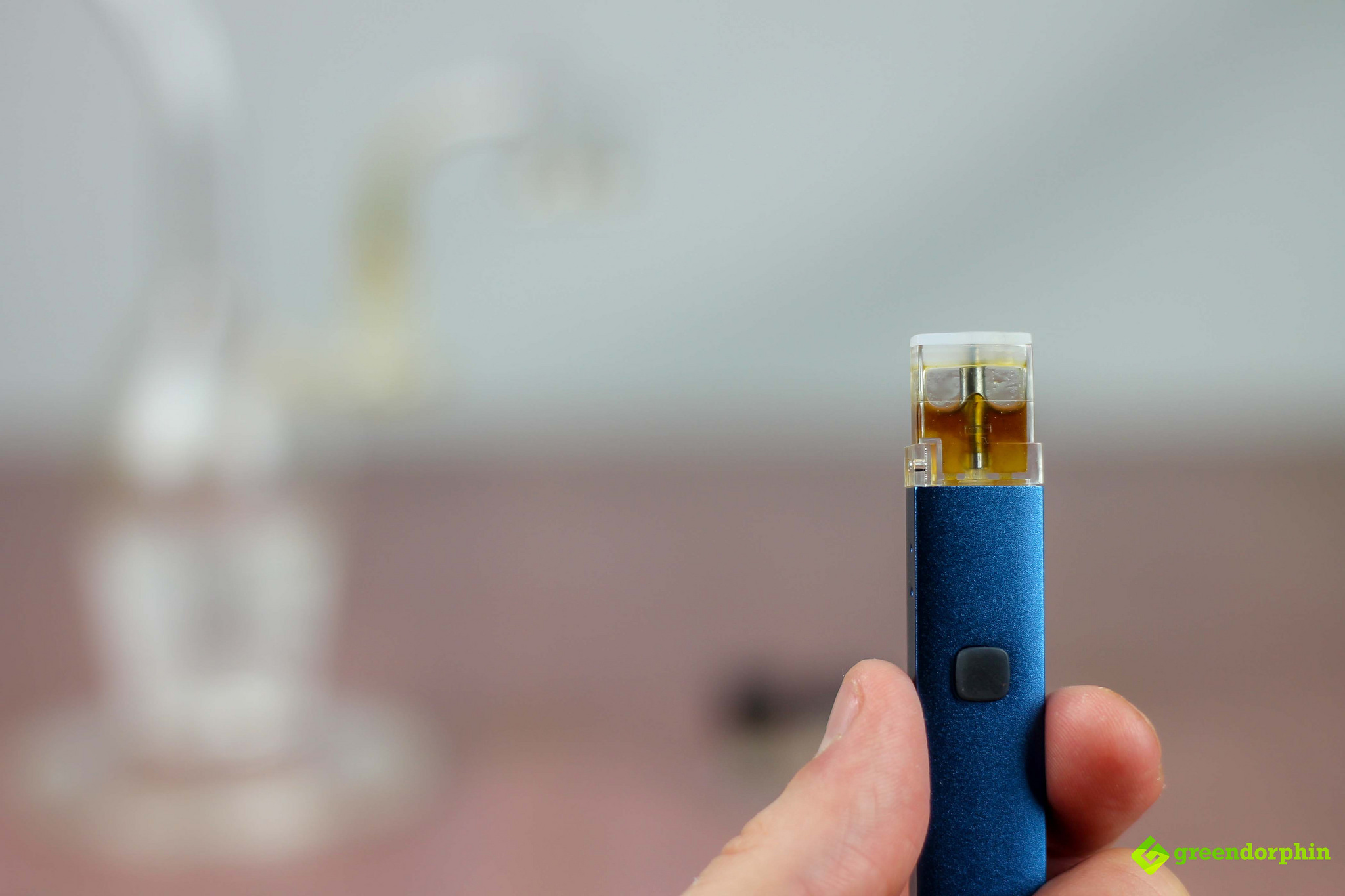 Filling your pod to the top will almost always result in lost oil when you replace the silicon top cap, so I tend to fill my cartridges only up to the 3/4 mark. 
Plus, these pods are good for at least ten uses, meaning you can just refill the thing when its running low. I find The Hippie Air to deliver fantastic hits of sweet vapor, and the airflow is perfect. 
Looking at downsides with these pods, they're obviously made from plastic which isn't as desirable as glass, but in terms of portability and ease of filling, these are the ducks nuts! 
From a mere 1/3 of a gram of concentrate I got myself two packed dab cartridges, and even a little leftover for a refill, distillate dab, or even to slick up an oily joint. 
These dab cartridges really are taking over the legal cannabis industry. They are discreet, tasty, and affordable!
Making your own DIY dab cartridges is an awesome way to stretch the life of your concentrates and it beats heating up a banger every time you want to take a hit. 
Any questions on how to get started with your own dab cartridges? Drop me a comment below!